Free Course Review: Neil Patel Free Digital Marketing Training 2022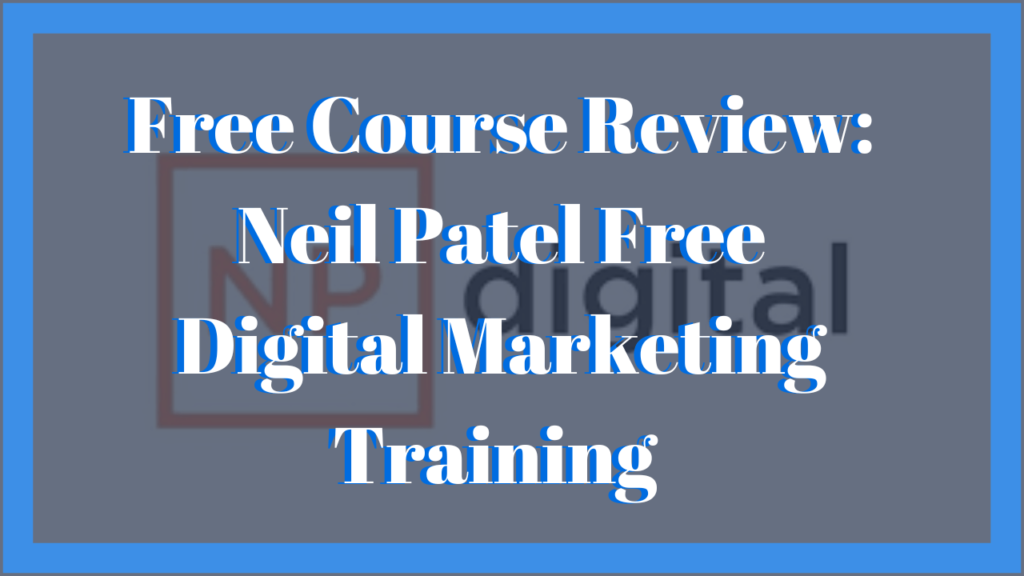 Neil Patel's Digital Marketing Training is 1 of the best online courses for digital marketing. 
The goal of this Free Course Review article is to do an in depth analysis of Neil's free courses in order to help beginners and advance marketers decide if it will add any value to their businesses. 
Neil Patel's Free Digital Marketing Training
This Free Digital Marketing Training program consists of 6 categories that cover everything related to running an online business, which includes:
SEO
Ecommerce
Content Marketing 
Social Media
Online marketing 
And Conversion Optimization.
The lessons in the training program are in the form of videos, PDFs, and Excel spreadsheets, and they focus on how to develop the technical skills needed to become a successful business owner and digital marketer. 
The courses discuss how to attract visitors to your site and how to convert those visitors into money. In addition, you'll learn how to craft captivating content for distribution through multiple marketing mediums. 
Who is Neil Patel?
Successful digital marketer Neil Patel has built a name for himself on the internet because of his online marketing efforts.
Neil Patel is a popular digital marketing blogger that started several successful ventures, including Crazy Egg, Ubersuggest, and Kiss Metrics. He has published several helpful books and blog posts on digital marketing, while also creating valuable videos for his YouTube channel with over 1 million subscribers.
Through his digital marketing company, Neil Patel (NP)Digital, he has helped countless businesses like Amazon, NBC, and eBay to improve their traffic and increase their revenue. His marketing methods are tested and have been proven to work.
Pros and Cons 
Pros
The training program is 100% free
All the courses are beginner-friendly
It includes supporting documents in all courses. 
The suggestions given are straightforward and practical. 
The software products recommended are affordable. 
Neil Patel has a proven track record to show that he has experience. 
Users can also access video lessons on YouTube.
Cons
Not all the software products Neil Patel recommends are the best options. 
Course Analysis
Neil Patel designed the training program so that each category contains courses that provide individual lessons based on relevant topics related to the category. 
SEO Course 
This course offers all the information you will need on search engine optimization (SEO). It contains 7 weeks of lessons that are divided into 3 phases:
Phase 1: Set up
Phase 2: Execute
And Phase 3: Optimize
The format is to ensure that users pace themselves when taking the course so that they can retain all the information provided.  
The first two weeks in Phase 1 focus on building a foundational understanding of SEO. It also gives users a step-by-step guide on how to set up Ubersuggest and use its Keyword Research and Site Audit tools.  
Some major lessons for Week 1 and 2 are on topics that include: 
Introduction to SEO 
Keyword Research Part 1 and 2
On-Page SEO
Off-Page SEO
And SEO Audit 
Weeks 3 to 5 are in phase 2 and offers lessons based on content marketing and link building. Some key lessons for these modules are on:  
Advanced Content Marketing
The 10 Commandments of Content Marketing
How to Edit Your Content For SEO
Introduction to Link Building 
How to Build Powerful Backlinks For Faster Ranking
And How to Get Thousands of Backlinks on Semi-Autopilot. 
The last 2 weeks of the course are based on phase 3, it relates to using powerful tools like Google Analytics and Google Search Console to give your brand an extra boost in performance on search engines. 
 Week 6 and 7 provide lessons that include: 
How to Set up Google Analytics
How to Set up Google Search Console 
How to Use Advanced Features in Google Analytics
How to Define Your Brand Story 
And How to Build an Amazing Customer Experience
The course provides a comprehensive look into SEO and what it takes to have a website that can rank well on search engines. It addresses all the major components of SEO and uses Ubersuggest as the best tool. 
If Ubersuggest is not a good fit for you, there are other affordable SEO tools available.
For someone with little SEO experience, SEO Unlocked provides a solid introduction to the concept.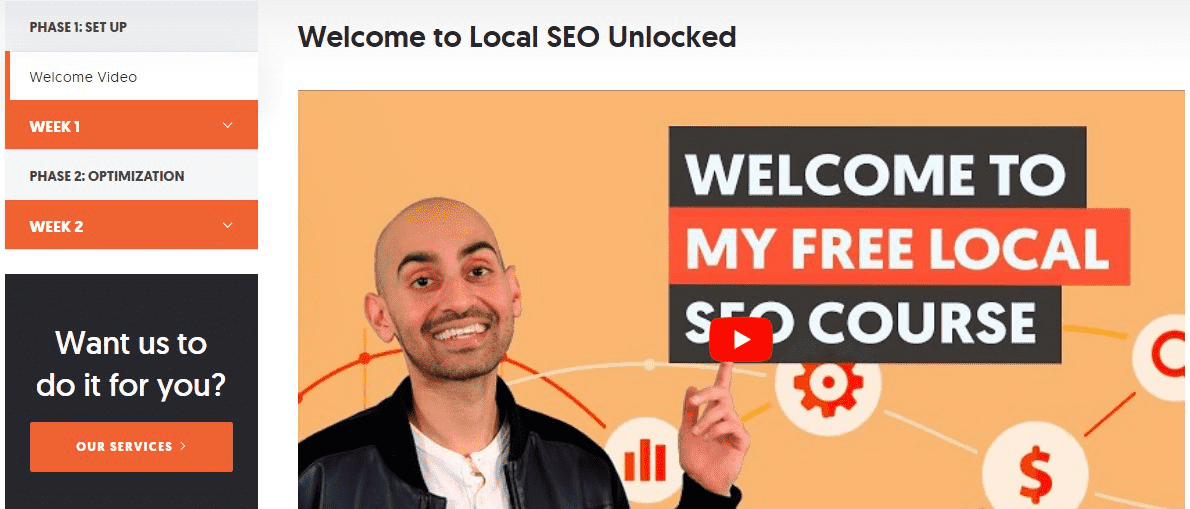 In this course, users will find lessons on how to improve their website's visibility in local search results. It has an identical format to SEO Unlocked because it is divided into phases and has a few weeks of lessons. 
The 2 phases, Phase 1: Set Up and Phase 2: Optimization, hold lessons for 2 weeks. Phase 1 and Week 1 consist of 2 video lessons,
Local SEO Signals (And How to Master Them) 
And How to Own Your Google My Business Rankings
3 supporting documents, which includes 2 Excel spreadsheets and 1 PDF also accompanies the video lessons.
Phase 2 and Week 2 offers 3 video lessons and 6 supporting documents, including 4 PDFs and 2 worksheets. The videos included are: 
 How to Create Content That Ranks
On & Off-Page SEO Formula
And The Secret Local SEO Recipe
These lessons will help to build your brand locally by establishing your business location with search engines and creating content that directly addresses the needs and interests of your audience base. 
Ecommerce Course
Within this course, users will gain access to step-by-step lessons on how to effectively develop and market ecommerce websites. It has 4 weeks of lessons that is divided into 4 phases: 
Phase 1: Getting Started
Phase 2: SEO & CRO
Phase 3: Sales Channels
And Phase 4: Marketing Channels
Each phase offers useful lessons on a wide range of topics, which includes:
Sales Channels
22 Marketing Channels For Ecommerce
Conversion Rate Optimization 
How to Promote Content 
How to Increase Sales with Amazon 
How to Generate B2B Sales
And How to Set up Shopping and Product Ads
These are just a few of the topics addressed. 
Many of the suggestions mentioned are unique and will enable users to set themselves apart from the competition. The supporting PDF documents and excel worksheets supplement the video lessons by providing guides and checklists for emerging trends, marketing glossaries, Amazon listings, sales scripts, and ad templates.
Content Marketing Course
This course is ideal for content creators because it offers an in-depth guide to how to create and promote different types of content. It offers lessons that focus on how to improve existing content, along with guides on how to optimize the different stages of the content generation process. 
Some major lessons of the course are videos that cover topics such as 
 How to Rank Existing Content
18 Content Types to Dominate Content Marketing
How to Rank For Competitive Keywords Using Topic Clusters
How to Promote Content
18 Link Building Strategies
How to Improve Your Content Using Tools 
How to Rank #1 For Competitive Keywords
And How to Leverage Guest Posting
With the help of the video lessons and supporting documents providing guides, templates, and cheat sheets, users will develop an optimized model for their content generation and promotion process. 
Social Media Course 
This course category comprises 4 courses, each covering a different social media platform. They include: 
Instagram Unlocked 
YouTube Unlocked 
LinkedIn Unlocked 
And Facebook Unlocked 
It relates the lessons for these courses to growing your social media accounts, creating different content for each platform, and how to market your content to grow your audience base. 
LinkedIn Unlocked is the only course directly focusing on leads and sales generation, since LinkedIn gives you the ability to connect with powerful players within a niche. These people can point you in the right direction and give your business relevance with the niche. 
 The most noteworthy lessons included in the courses are: 
27 Content Types For Instagram
Instagram Marketing Hacks
Top Performing Content Types for YouTube
How to Script and Storyboard Your YouTube Videos
How to Promote Your YouTube Videos
How to Get B2B Leads and Clients 
How to Generate Sales Using LinkedIn
LinkedIn Marketing Tactics
Setting Up Your Business on Facebook
The Type of Content Facebook Loves
And The Beginner's Guide to Facebook Ads
With these lessons, users will have a firm foundation in social media marketing, and leverage the platforms to achieve business success. 
Online Marketing Course
This course is centered on developing a comprehensive system for email marketing. The lessons it offers are related to gathering emails and building a contact list, creating an efficient email process, and adding value to customers.  
It's a relatively light course with only 2 weeks of information, but the overall quality of each lesson carries weight. The video lessons for Week 1 consist of: 
How to Build Your Email Contact
And How to Set up Email Workflows
While the lessons for Week 2 include:
How to Maximize Your Customer Lifetime Value
How to 3x Your Email Marketing
And Here's What's Working Now
The information brought forward in the lessons offer current solutions to modern problems email marketers are experiencing. 
They break down the importance of having different emails for different occasions, like having a standard welcome email for new subscribers and notification emails for when you update your product list or content. The course also goes in-depth about upselling emails, which can make or break your business depending on how forceful and trustworthy you come across. 
This course will definitely add some value. 
Conversion Optimization Course
This Conversion Rate Optimization (CRO) course is sales-oriented and teaches users everything they need to know about generating more sales for their online business. Its goal is to help users double their sales by progressively improving their lead generation overtime. The lessons are ideal for any business, whether they have a B2B (Business to Business) or B2C (Business to Customer) model. 
The course lasts for 2 weeks and offers 5 video lessons and a combination of workbooks, cheat sheets, and templates. The video lessons cover topics such as 
CRO Best Practices
How to Use Crazy Egg
Conversion Hacks
How to Increase Ecommerce Sales
And Fine-Tuning Conversion
CRO Unlocked addresses the importance of optimizing key pages such as the About, Product Detail, Exit, and Landing Pages. These pages capture the essence of your website, showcasing what your business is about and the quality of service or product they should expect to get. 
It also mentions how influential pricing psychology is and gives suggestions on how best to manage your prices to capture customers. 
The course provides great insight into how business owners can boost their conversions, spending the time to watch it would be worth it.
Alternative Digital Marketing Free Course
Miles Beckler's 7-Figure Business Blueprint
Beckler's 7-Figure Business Blueprint course is a beginner's guide to building a successful internet business using the ATM (Audience, Trust, Monetization) strategy he has personally used to become successful in the digital marketing space.
Our Verdict
Neil Patel's Digital Marketing Training program provides a tremendous value for digital marketers and online business owners. It breaks down everything related to running a profitable business on the web simply so that beginners can efficiently implement the lessons. 
That it's free makes it even more worthwhile, since people with limited budgets can access information that would normally be hidden behind a paid wall or some other scheme. 
We highly recommend that marketers and business owners take the time and watch the courses of this free training program.
On the side of paid digital marketing courses, some of the best ones available include: