Miles Beckler 7-Figure Business Blueprint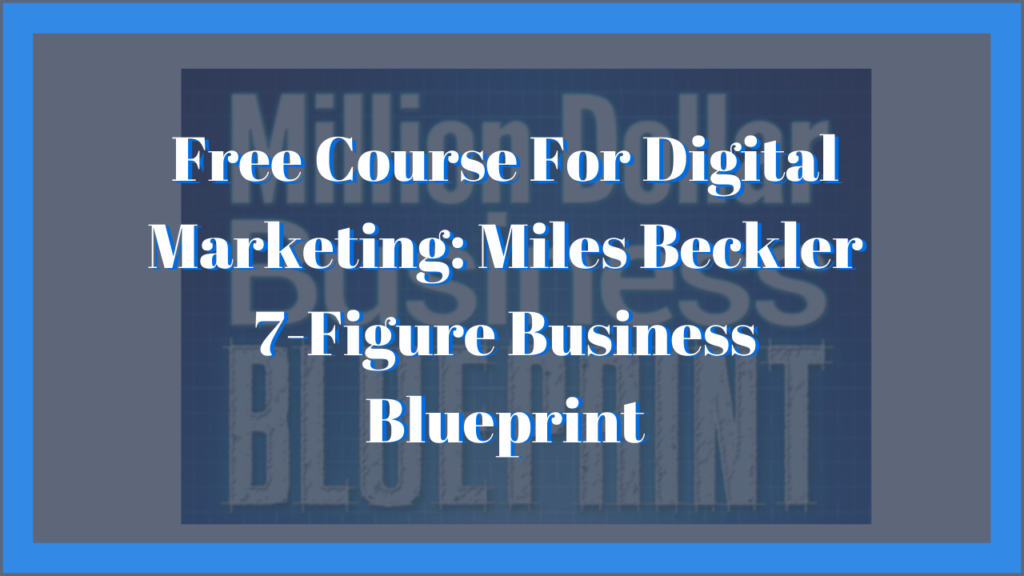 This is the first installment of our Free Course Review. In this special series, we will be evaluating free courses related to Digital Marketing and Search Engine Optimization (SEO). The goal is to review courses you can take to gain valuable skills that might help to improve your online business, or maybe even help you to create one. 
The first course we will be reviewing comes from Miles Beckler Academy and is the updated version of the 7-Figure (Million Dollar) Business Blueprint.
I have been familiar with Miles Beckler's content for years now, he has always given solid advice, so I was looking forward to seeing what his free course has to offer. I can honestly say that I was impressed, it provides some useful insights into how you can create an online business by creating an authority website capable of earning an income. 
It walks you through the strategy Miles used to achieve success with him and his wife's website and gives advice on how to effectively implement this strategy.
Are Free Courses Any Good?
Yes, they are.
I have come to understand that all the information needed to become successful in any form of business is already available and scattered all over the internet. What paid courses do in most cases is collect and organize this information and feed them to you at a premium price.
Many so-called "gurus" create these types of courses and make a living selling them instead of actually implementing the skills they 'teach'. In recent times, this has become a popular business model for influencers and "gurus", and a trap for entrepreneurs looking to start an online business. 
Free courses (the good ones) give you a way to avoid these traps. The ones that I have come across so far (this one included) were created by actual experts in their respective fields as a way to add value to their audience and build trust.
Who is Miles Beckler?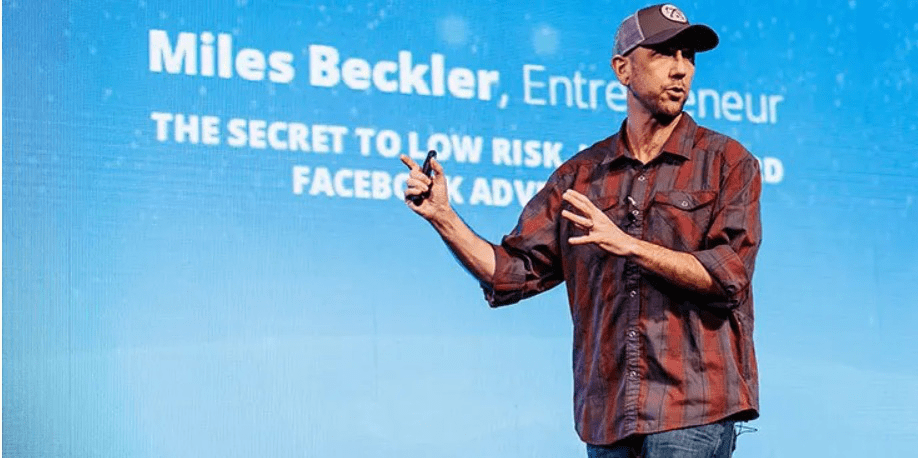 Miles Beckler is a successful internet marketer who has been involved in the digital marketing and online entrepreneurship world for over 10 years now. 
It all started back in 2003 when Miles learned about spamming affiliate links on Myspace and attaining some version of success from it. His success was short-lived, however, when the social networking site was acquired by Fox News Corp.
Fast-forward to 2009, after many failed business ventures, a $50,000 student loan debt, and a new marriage, Miles and Melanie (his wife) co-founded a meditation and spirituality website (ask-angels.com) to express their shared passion for meditation. Melanie worked on creating the perfect content for their users, while Miles focused on keeping the (WordPress) site functional and fully optimized for search engines.
With time and considerable effort from the duo, their site achieved major success. This and a number of other successful ventures afforded them the lifestyle of digital nomads and peaked a lot of interest along the way. Tired of answering the same questions over and over again, Miles decided to create a YouTube channel and a blog detailing what it takes to be successful in the digital marketing space. 
This is where the Miles Beckler Brand we all know now was created. 
His YouTube channel now has over 195,000 subscribers, while his blog site has 5,300+ monthly organic traffic. 
What makes Miles Beckler special?
The number 1 thing that distinguishes Miles Beckler from all the other "influencers" or internet marketing "gurus" is that he offers most of his information for 100% free. He does this while others are selling a watered-down version of the same information at a premium price. 
If you've watched any Miles Beckler videos or read his blogs, you will know that he has a strong contempt for "fake gurus". It is this contempt that drives him to be reliably and accurately forthcoming with any information or product that can help to improve your website's and business's performance.  
Miles Beckler Academy Overview – Free Courses
Free courses found in Miles Beckler Academy include: 
7-Figure Business Blueprint
Email List Growth Mastery
ATM Sales Funnel Accelerator 
Million Dollar Copywriting Course
The Sales Funnel Checklist
Pros and Cons
Pros: 
The course is beginner-friendly.
Provides high-quality free content.
Practical suggestions and recommendations.
Miles actually implements the advice given in the course.
Course content is provided in written and video format.
Cons: 
Many recommended products are expensive
The drip-feeding approach can be limiting.
Who is it for?
Miles Beckler Academy is ideal for aspiring internet entrepreneurs. 
It is the perfect place to learn how you can improve your digital marketing, copywriting, and entrepreneurship skills. It offers courses that are easy-to-follow while still being challenging enough to not become boring or repetitive.
Million-Dollar (7-Figure) Business Blueprint
Beckler's 7-Figure Business Blueprint course is a beginner's guide to building a successful internet business using the ATM (Audience, Trust, Monetization) strategy he and his wife have personally used to become successful in the digital marketing space.  
The course consists of both videos and written content, the text provides context and supporting details. The videos added to the course are also directly available on Miles Beckler's YouTube channel, they are organized for the course in such a way that each complements the other and adds to the overall value.
Module 0 – Introduction
This introductory module introduces you to the ATM strategy and briefly outlines what each of its stages consists of. Miles also gives an estimated timeframe for completing or working on each stage. 
In the Audience stage, businesses create channels on search engines and social media to engage and provide their audience with valuable content. During this stage, you will be going all in to create videos, blogs, and social media posts to satisfy customer or user needs, and grow your audience base. The estimated timeframe to focus solely on this is 6 months, but it will be a continuous process to maintain a healthy audience base. 
During the Trust stage, you will be mainly focused on building or growing your email list. This is where you set up funnels like popups and landing pages to capture the emails of viewers or visitors. Keep in mind that for every 10 YouTube subscribers or blog viewers, you will only get 1 email list subscription. With the email list, you will add value to subscribers in the form of daily or weekly newsletters related to useful information and products. 
After you have become established in the two previous stages, the Monetization stage can be handled with relative ease. In this stage, you will be sending targeted commercial content to your email list. Since you have developed a bond with them through the routine newsletters, they will be more willing to purchase a recommended product or service and use an affiliate link. Most people evade all the other stages to get here, but it's important to first develop a stable audience base and earn their trust.
Module 1 – Know Yourself
The main point of this module is a valid one. According to Miles, knowing yourself and what gets your creative juice flowing is the "X-Factor to your success".
With the rise of AI content generation software, authenticity and uniqueness seem to be gradually disappearing in the digital marketing and copywriting world. It's for this reason that it's important for you to create content that makes you stand out from the crowd.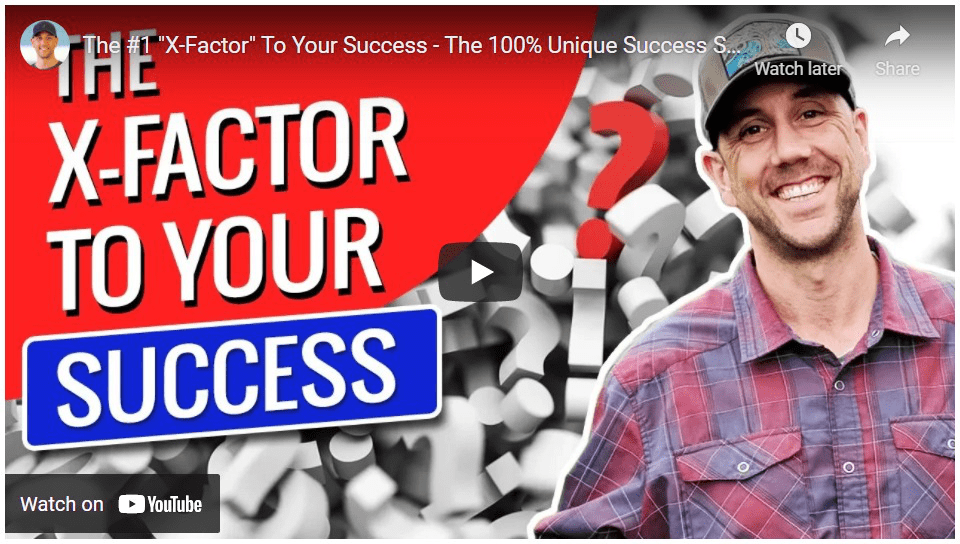 In most niches the information is easily accessible, it's unlikely that the advice or information you provide will be any different from your competitors. Imagine that you're in the automotive niche, and you're writing about why it's important to change your tires once they're old. Nothing you say in this blog post will be new information (unless you're lying), so it's important to spice up your method of delivering that information. 
What platforms will you create content for?
Will you write a blog, or will you make YouTube videos?
Why should viewers or readers click your affiliate link?
What can you do to become better?
These are some questions you will have to ask yourself before moving any further. Your answers will give you the well-needed direction to move in.
Module 2 – Who can you help?
In this module, Miles gives us another 'secret to success, which is to find or create a tribe of like-minded people (audience) and directly provide value to them.  
He goes on to break down the main thing you should be looking for in an audience, desire. An ideal audience is a group of people who have a shared desire to know or purchase something. Your job as an internet marketer is to provide them with a clear path to fulfill that desire. 
And how will you do this? 
By producing different kinds of content that connect with them and help to solve their problems. 
The module outlines how you can integrate the AIDA (Attention, Interest, Desire, Action) framework into your content generation process in order to secure more conversions for your business. 
Attention – on the path to providing value to your audience (and monetizing it) you first need to catch their attention of them. Luckily, with the help of social media platforms and the overall internet, catching an audience's attention is a relatively simple matter. By flooding these various platforms with valuable content, you're on the right track.  
Interest –  this is where your content would have caught the attention of your audience and has piqued their interest. This can be done with a 'how to' post on your blog or a YouTube video, now your audience is interested in what you have to say and is willing to follow you a bit further down the path. 
Desire –   here is where you can create and fuel a desire in your audience to take action, preferably one that you can monetize. You can entice them to take action with email offers or Opt-in pages, you can even share related blog posts or videos to reinforce your point. 
Action – this is the final step in the AIDA framework and where you will add the finishing touches to call your audience to take action. This is where you will ask your audience to purchase something, whether it's directly from you, an affiliate link, or a third-party product that helps them to solve the problem that they initially had. 
By putting your audience first and then setting up a series of valuable content that guides your audience down a path to solve their problem, you will create a sustainable and successful online business. All you have to do is replicate the process with thousands of people to achieve profitability.  
Module 3 – Two Core Offers
This module has 4 videos, in it, Miles discusses the importance of proving to your audience that you are capable of providing value to them or solving a specific problem they have. 
To prove to your audience that you can add value to their lives, you must first be proactive and do something that actually adds value. The best and most rewarding way to do this is by publishing high-quality and relevant content (no-brainer), as well as providing a free and irresistible offer that will help to solve their problem. 
There are a number of positives that can come from offering free products or services to your audience base. For one, it proves to them that you are committed to providing value and not just here for a cash grab. This will do wonders for building the trustworthiness of your brand. Secondly, with this free offer, you will develop additional skills and expertise (especially if you're offering a free service) which will boost your authority within that niche. 
The other videos in this module go into more detail on how to set up your free giveaway or lead magnet. There's even a framework on how to create a free course. 
Module 4 – Your Core Web Pages
This lesson is about the two web pages Miles believes are the most important (core) for digital marketers, the Opt-In Page, and the Thank You Page. 
The Opt-in Page is the page that offers your readers a free, irresistible offer in exchange for an email address. Your opt-in page needs to be as simple as possible, with your attention focused primarily on your headline and the offer you're providing. Having too much information on this page might actually kill conversions, so be careful.
The first video in this lesson is a review of Opt-In pages of established marketers, followed by another video of a breakdown and walkthrough of Miles' very own Opt-in page. 
The Thank You page is the first thing people see when they opt-in. This means it will either offer products or services from you or a third party or maybe an affiliate link in hopes of converting casual viewers or readers into paying customers. 
The concept of quickly offering new subscribers a product is referred to as One Time Offers or OTO. If it's someone else's offer through an affiliate link, then it's referred to as a Bridge Page. 
Some alternatives (or additional) core web pages mentioned in the module are Checkout Pages and Product Delivery Pages. The names for those are pretty self-explanatory. 
The module also went on to recommend free tools that can be used to create these core web pages. A guide was also added on how to set up automated email responders.
Module 5 – Split Testing
Split testing is the process of evaluating different options for your core pages, like headlines, offers, and call to action to see which can achieve better conversion rates. In this module, the instructor addresses the importance of split testing as opposed to just using the first draft of your Opt-In and Thank You Pages without ever improving them. 
Split testing is as simple as creating two versions of your opt-in page, and directing half of your traffic to one version and the other half to the next. By tracking the conversions for each from the same amount of traffic, you will clearly see which outperforms the other. 
The module goes on to specify different types of split testing you can do to fine-tune your core pages and includes a 10-minute video on how to set up split tests on the WordPress system.
Module 6 – Facebook PPC
This is one of the two modules that focus on driving traffic to your website. This module specifically speaks on using Facebook ads.  Personally, I'm not a fan of using Facebook ads, but the concepts discussed here are founded on Miles' personal experience, so they are tried and true methods for him. 
It is clearly stated that utilizing Facebook's Pay Per Click (PPC) Ads is not 100% necessary to become successful with the ATM method, but it does help considerably to get to that 7-figure mark. 
The full 44 minutes of Miles Beckler's ATM Accelerator training video was added to this lesson, along with the updated version of his Facebook ads training that was only available on his paid program. 
In addition to those two, heavy-hitting video training packed with valuable information, additional resources are added to help accelerate the process. 
Module 7 – Content Marketing
Miles discusses the three main forms of content marketing that are important in growing an online business. 
These are Email Marketing, Search Engine Marketing, and Social Media Marketing. According to Miles, email marking is absolutely the most required one. This is because most of your subscribers won't purchase your first offer, the course states that over 98% of your leads will leave your Thank You page without purchasing anything. 
Because of this, you will need to establish a direct link to them through your email list for building trust and for future offers. Following up with leads is one of the most important things you can do as an internet entrepreneur. Once you have received their email, your job now becomes to develop the best relationship possible with your subscribers. 
The module does a deep dive into email marketing with 3 videos on email marketing, one is a 29-minute-long video of Miles and Melanie on how to master email marketing. In it, they recommend two great email marketing tools for beginners (AWeber) and advanced marketers (Active Campaign).
Search engine marketing is also discussed and is framed as an alternative to Facebook ads. Search engine marketing is a way to get your content displayed when internet users search for answers on the web. Search engine marketing has a long shelf life, if optimized properly, content that ranks well on search engines will be there for years to come. 
The only major challenge with search engine marketing is that seeing results will take some time, it can take months or even years to build enough authority in your niche to rank well. Three search engine marketing videos are included in the module, about optimizing content for search engines, the importance of keywords research, and an SEO (Search Engine Optimization) course. 
Alternatively, two videos are added on Pinterest and Instagram marketing as an example of Social media marketing. 
Conclusion
In this concluding lesson, Miles talks about the external and internal challenges you will face when pursuing an online business and the importance of failing forward. 
Failures are inevitable in this business, but what's important is that you keep moving forward, learning from every setback you experience. This is discussed in detail in one of the six videos included in the lesson. 
The module continues with a 3 part training series on how to choose a niche for your online or digital marketing business. This is extremely important because it is the foundation of your business blueprint, and determines the audience you will be in service to. 
Becoming successful in this business will take time, that's why it is important to create a clear plan of action and develop a system to achieve that plan. Patience will be an important asset to have. 
After completing this course, your first action should be to create or reinforce an audience engine by generating high-quality and high-value content that will increase, catch the attention of and intrigue your audience base.  
Does the ATM Strategy Work?
According to Miles Beckler, the strategy has actually worked for him and his wife. It has allowed them to achieve financial success and freedom by creating multiple monetized authority websites, and I have no reason to believe that this is a lie.
The guiding concepts that are the basis of the ATM strategy are solid. By organizing your path to success into 3 stages (Audience, Trust, Monetization), you allow yourself to be laser-focused and take deliberate action to achieve specific goals that will take you closer to success.
The core concept of every multimillion or billion-dollar business is the same, provide direct value to customers. This course and Miles' ATM strategy are centered around that concept. 
The true beauty behind this course is that it provides viewers with guidelines on how to execute this core concept for FREE. The course does not just offer generic advice and information from random Google searches. Every piece of advice given by Miles comes from his personal experience of navigating the world of digital marketing. Accessing this kind of information would normally be accompanied by a request for your credit card details. 
I can not say for sure if this course or the ATM strategy will enable you to create a million-dollar online business. I have gone through it a number of times and my business have yet to generate a million dollars in profit. 
Does this mean it's a useless course and should be avoided at all costs?
Not at all. It adds value to your business by showing you a different approach that will help you to improve your workflow and the quality of your work.
Our Verdict
All in all, Miles Beckler's Million-Dollar Business Blueprint course is an excellent way to get you thinking about the right strategies for becoming a successful digital marketer or online entrepreneur. 
It provides comprehensive insights into what it will take to start and operate a successful website that can be monetized. As far as free courses go regarding digital marketing, it's one of the best. 
If you're interested in starting your own online business, then give it a try, it won't cost you a penny, and you will walk away with useful knowledge that others paid thousands of dollars for.