Descript Review 2022: Details, Noteworthy Features, and Pricing 
This is our review of Descript.
I've only been familiar with Descript for a few months now, and in that time I've developed a great appreciation for it. It's a very flexible software that is capable of performing key and innovative functions for video editing.
The purpose of this Descript review is to share some useful information on what the software is capable of, and what potential users should expect to get from it (which is a lot). 
Let's get started!
Descript Review: What is it all about?
Descript is a comprehensive and collaborative video editing software. It comes with an easy interface that helps both professionals and beginners to edit their podcasts and videos.
Editing on Descript is as easy as making a Word document. Here, you can easily upload your media files and begin the editing process.
You can also record your voice in Descript. Its efficient tools transcribe the audio file into text and allow you to use this text in your media clips as subtitles.
In addition, you can edit the filler words and silent gaps in your work with a single click.
Get Started With Descript
Who is Descript for?
Descript offers a laundry list of features, making it one of the most comprehensive media editors available. Because of this, literally, anyone operating within the creative space can take full advantage of it. Here are some specific professions that Descript is ideal for: 
Content Creators  (vloggers, podcasters, YouTubers, etc.)
Video Editors
Videographers
Streamers
Social Media Managers and Influencers
Pros & Cons of Descript
Pros
You can easily edit videos thanks to Descript's intuitive, text editor interface. 
Beginners can easily learn how to use Descript's with the help of comprehensive video tutorials.
It is extremely affordable.
Allows high-quality screen recording.
Users can easily export high-quality videos on multiple platforms.
Original clips deleted or edited are still preserved and accessible for possible future use (non-destructive editing). 
Cons
Descript is cloud-based, therefore you can only use it with an internet connection.
The overdub feature can only be fully used on the pro and enterprise versions.
Transcription is not 100% accurate.
What can you do with Descript?
You can get a lot done with just this simple software. Here is a list of things you can accomplish with it: 
1. Start a Podcast
Descript is capable of fully supporting every aspect of creating a high-quality podcast. By using it you can easily:
Record
Mix
Edit
Collaborate and export your podcasts in the same environment.
2. Transcribe your work
Descript automatically generates a transcript for every video or audio file uploaded. 
The transcription tool is driven by both machine and human intelligence. The software automatically generates the transcript, but it's not 100% accurate, so you might have to do a read-through and make the necessary corrections. The subtitles used in your videos (if you use any) will be taken from the transcripts, so it's important to ensure that they are as accurate as possible. 
Another interesting thing the transcription tool does is to include speaker labels in the transcripts. This means that when recordings with multiple people are transcripted, the software is able to identify each person and give them a speaker label. 
3. Easy screen recording
With Descript's screen recorder, you can easily capture video from your desktop or webcam and then directly share or edit them just as easily. 
The shortcut Ctrl + Shift + 2 allows you to start and stop screen recording at any time. With this feature, you have the ability to customize the size of your webcam, along with choosing which part of your screen will be captured during the recording.
When you're done, a preview box will appear with the options to view the recording in a browser, edit in Descript or delete it. 
4. High-quality video editing
Descript has introduced a new way of video editing by allowing users to edit their videos as if they were editing a Word document. 
You can edit video clips by editing the auto-generated transcripts of them. If you want to delete anything from a video, then you can highlight the corresponding script and hit the delete button. Overdub and Filler word remover are some more editing features centered around the text-based video editor, but I'll discuss those in more detail shortly. 
The software is also capable of performing common video editing tasks such as inserting transitions, animations, and shapes, along with adding sound effects and manipulating play-back speed. 
Get Started With Descript
Noteworthy Features Of Descript:
Overdub:
This feature allows you to create a realistic text-to-speech model of your own voice, or use one of Descript's stock voices. 
In order for you to dub your own voice, you'll have to first do voice identity verification and voice training. This requires you to clearly record yourself reading a consent statement along with a training script for at least 10 minutes. Voice verification and training are important for the software to accurately identify and replicate your voice for future dubbing. 
The longer the recording the better. Ideally, you should go for 30 minutes. 
This feature is great for creating media content without the need to record yourself doing it. Now you can create podcasts and other long-form content by just typing a script and letting the overdub feature be your mouthpiece. 
What's great about it is that the technology has become so advanced that most people won't even be able to tell the difference. 
Filler Word Removal:
As the name suggests, this feature allows you to eliminate filler word usage from your video and audio clips. 
Once a transcript of your media files is automatically generated, you can identify instances where filler words are used by looking out for the underlined words. All it takes to remove the filler words is for users to click the wrench button in the editor and select "remove filler words".
All the filler words used in the clip will be displayed to the left of the screen. There will be several options to choose from for removing the filler, you can delete them from both the audio and transcript, replace it with a gap clip (silence), or ignore it. The ignore option will remove the filler from the audio but leave it to be visible in the transcript.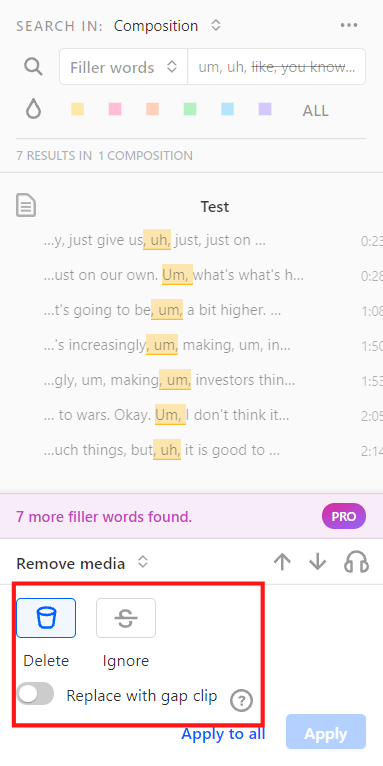 With your videos having fewer filler words, they will now come across as more persuasive and authoritative. 
Remote Recording:
This feature allows you to record Zoom, Skype, and other popular conferencing tools directly into Descript without the second party being required to download and create an account with the software. 
While using this feature, you can integrate Zoom's high-fidelity audio mode directly to the software and your device so that the guest's audio is clearly recorded (thanks to Studio Sound). Also, during the call, a transcript will be automatically generated in real-time. 
This is a perfect method for producing good-quality podcasts and interviews.
Studio Sound:
This is responsible for improving the voice quality in a recording while negating noisy environments. 
It works by isolating a speaker's voice and then regenerating and enhancing the audio quality while at the same time removing echoes and background noises. With this feature, you can record in almost any environment, on an iPhone or pro microphone, and still produce videos with great audio quality. 
What makes it even better is that it's a passive feature, the only work that's required on your end is to click a button. 
Descript Pricing and Plans
Descript is very affordable compared to similar editing software products on the market. 
Despite that, they still offer a free version that gives users a limited introduction to all the features that are offered. With the free plan, users have only 3 hours worth of transcription, a trial version of overdub, full access to the audio and editing features along with unlimited screen recording.  
This is enough to test it out and determine if it suits your style.
There are 3 paid plans for Descript, they include: 
Creator Plan: An annual subscription cost $12 per month per editor (20% discount). If you're not interested in paying yearly, it will cost $15 per month per editor. 
Pro Plan: An annual subscription cost $24 per month per editor (20% discount). Monthly payments will cost $30 per month per user.
Enterprise Plan: This plan is for teams with more than 20 members. The cost for it is customized, so you would have to reach out to Descript directly to find out the pricing.
Alternatives
CyberLink PowerDirector 365
This is the perfect software for effortlessly creating professional-level video edits. It is an intuitive editing tool that allows you to set objects in motion, completely transform a scene's location and create high-quality cinematic effects. PowerDirector 365 has also taken full advantage of the artificial intelligence wave by providing AI-powered features that make your editing workflow more efficient. 
Features Offered: 
Mask and Blend: You can add layers, shapes, and blend components to create artistic scenes. 
Keyframing: Adds seamless animated effects to make your work more dynamic. 
Green Screen: Removes bland backgrounds for more cinematic special effects. 
Ai Motion Tracking: Text and graphics automatically follow the motion of objects to enhance video quality.
Sky Replacement: This replaces or enhances the sky in videos to create more scenic shots. 
Speech Enhancement: It automatically reduces unwanted background noise, creating more refined and high-quality audio tracks.
Pricing: 
Monthly Plan: $19.99
Yearly Plan: $69.99
Wondershare Filmora
It is popular among Gamers, YouTubers, and Social Media content creators because of the powerful and comprehensive features it offers. Filmora X, the latest iteration of the software, has simplified traditionally advanced features to increase its accessibility to editors of all skill levels. It offers similar features as competitors but improves upon how they are executed. 
Features Offered: 
Keyframing 
Motion Tracking 
Audio Ducking: Fades music to produce clear dialogues.
Color Match: Offers color correction settings for multiple clips. 
Offers a list of creative and stylistic video effects. 
Green Screen
Gives the option to have split screens in your production to add unique perspectives.
Price: 
Long term free trial 
Annual Plan: $61.99
Perpetual Plan: $89.99
Bundle Subscription Plan: $109.99
Our Verdict
I highly recommend Descript, it is by far one of the most comprehensive yet affordable editing software I have ever come across. 
Its text-centered video editor allows users, whether professionals or beginners, to perform efficient editing workflows with less effort and headache than it would normally take. In addition to that, it offers a wide array of features that enable users to accomplish almost anything related to audiovisuals. 
By getting started with Descript, you will be taking a step into the future of video editing.
Get Started With Descript
If you're interested in more content about editing software, you can check out our article on 7 Amazing Things You Do With Canva Pro.