Rytr Review: 8 Noteworthy Features
This is our review of Rytr
I have been using AI-powered writing tools for over a year now to help streamline my writing process. During that time I have come across a number of different writing software, each having its fair share of strengths and weaknesses. 
In preparation for this Rytr reviews, I have spent over 2 months testing  Rytr to determine if it has any value. Long story short, it does.
Rytr is very flexible and easy to use, it enables you to generate content outputs that are actually good. It also provides AI-powered features to further edit and fine-tune the outputs so you can have the best possible content. And to top it off, Rytr is extremely affordable costing only $29 a month.
If you are interested in this new and innovative world of AI writing software and would like to learn more about the features Rytr has to offer then stick around.
Rytr Review
What is Rytr?
Rytr is an AI writing assistant that helps creators to generate high-quality content in a variety of formats for social media posts, blog posts, emails, video descriptions, and a lot more. 
The software generates content based on your guidelines, you only need to input a few criteria to get useful outputs. 
It has incorporated OpenAI's Generative Pre-Trained Transformer 3 (GPT-3) language, model.  Without getting into all the technical details, this is basically an AI program that collects valid information from multiple sources on the web to generate content based on the inputs given. 
Rytr is not a replacement for human writers and content creators, what it does is provide assistance by limiting writer's block and generating content at scale. If you are trying to use the software as your only means of content creation without putting in some of the work yourself then you will have a hard time. 
If you are interested in learning more about other AI writing software then you can check out our article on The Best AI Software To Improve Your Content. 
How to use Rytr?
One of the main things I love about Rytr is how easy it is to use. Many of the other AI writing assistants have a bit of a learning curve, jasper.ai for instance. Rytr on the other hand has a very simple and easy-to-understand user interface. 
When using this writing assistant your actions can be divided into two processes, the writing process, and the editing process. 
Writing Process
During the ryting process you will have to do the following in order to generate quality content:
Select Language
 Rytr has a list of 33 languages to choose from. This is perfect if you are catering to or want to cater to a more diverse audience base. To select a language, all you need to do is select one from the dropdown list.
Select Tone: 
The software provides users with 22 tones to choose from. With this wide variety of tones, you can specify in what ways you want to connect with your audience. If you want to be inspiring then you can choose the "inspirational" tone from the dropdown. 
Choose Use Case: 
Rytr Use cases are writing templates and currently there are 31 of them. Choosing a use case is basically like choosing what type of content you want to create. So if you are looking to create ads for Facebook then "Facebook, Twitter, Linkedin Ads" is the use case for you. 
Inputs: 
Each use case has specific inputs you must enter in order to get a valid result. In the case of Facebook ads, the inputs are Product Name and Product description.
Variants: 
Variants are the different versions of the text or output you will generate, Rytr only allows a maximum of 3 variants at a time. This is a limited amount of outputs compared to others like Jasper.ai which can give you up to 10.
It's worth noting that throughout my time using AI writing software, I have noticed that the quality of the text declines when more outputs are generated.
Outputs: 
Once you're all done with the inputs, you can select the "Ryte for me" button to generate your content on the editing panel. If you want to generate more output you can select the button again that now says "Ryte more" 
Editing Process
After your outputs are generated or you have copied text into the editing panel, you can make further edits to it. Here are some features you can use to improve the outputs:
Expand: 
This feature allows you to make your text longer. It is perfect for expounding on important points that were only briefly mentioned in the output. In keeping with Rytr's simple interface, you can activate the expand feature by selecting the text, clicking more in the ribbon that appears, and then clicking "Expand". 
Shorten: 
As you can imagine, this feature allows you to cut down the size of text while keeping the meaning. If you are bound by a word limit then this can do wonders. Similar to when you are using expand, to use shorten all you need to do is select the text, click more in the ribbon and then select "Shorten", simple.
Rephrase: 
This will reword the entire text to something new. It's a handy feature to have, especially when you find yourself sitting for an hour just thinking about how to change a sentence. You can use it simply by selecting the text you want to edit and clicking "Rephrase" on the ribbon. 
Append: 
Append is useful when you have broken sentences and paragraphs to deal with, it fixes that problem by adding extra words to the end of them. All you need to use it is to select the text you want to edit and click the Append option on the ribbon.
Plagiarism Checker: 
Rytr has a built-in plagiarism checker powered by Copyscape that you will have access to without any additional signup. 
Other AI writing software claim to have built-in plagiarism checkers that automatically filter your output to avoid plagiarism.  However, Rytr has a plagiarism checker that you can use to see for yourself if the text is plagiarized or not. 
I like the fact that I can use it myself to check, and not rely on their word that it "automatically" filters out plagiarism.
Start Ryting For Free
Pros and Cons
Pros
Easy to use Interface – Rytr is by far one of the easiest writing software I have used. Its interface is very intuitive, I was able to understand most of its controls without watching the tutorial video or looking up any documentation. These resources also follow Rytr's easy-to-understand theme, they are easily digestible and once you have gone through them you will be able to use Rytr to its full potential. 
Affordable Premium plan – Rytr is by far the most affordable AI writing tool on the market. The value it provides far exceeds its cost (and I'd like it to stay that way), and you can get unlimited access to Rytr's full catalog of use cases and features at a fraction of the cost of other AI writing software.  
Good Outputs – From my experience, Rytr provides some of the best quality outputs on a consistent basis. Writing software doesn't produce high-quality outputs all the time, you normally get some nonsense mixed in. But while using Rytr I had fewer cases of bad outputs. I'm guessing it's because Rytr gives only 3 outputs at a time, but I'm no AI specialist so I can't say for certain.  
Allows Output editing – Rytr takes the content generation process to another level with its features to edit your outputs. You can use the expand, shorten, append and rephrase features to improve upon the text generated. This has been a big help for me when putting together content.
Cons
Limited Free Plan – This might seem like nitpicking but the 5,000 character limit per month of the free plan is way too limiting. It was a shock to see how quickly I used up the 5,000 credits.
Noteworthy Features
Output Editing
A major factor that convinced me to buy Rytr is the fact that it allows you to edit your outputs with additional AI-powered features such as: 
Expand
Shorten
Rephrase 
Append
Command (allows you to generate detailed content)
Improve
Paragraph 
The outputs you get from AI writing tools like Rytr are usually good quality, but they aren't perfect. Whenever I used these writing tools I would normally have to manually edit and rephrase some sentences to balance the outputs.
I still do that when I'm using Rytr, but the difference now is that I have less work to do. The editing features actually do a good job.
They enable Rytr to be more flexible and generate better results. Its editing capabilities are on par with tools like Grammarly and ProWritingAid
Simple and Easy to Use Interface
Rytr's user interface is very minimalistic which makes it easy to navigate. It is so easy to use that someone without any experience in using it or any other AI writing tool could catch on in a matter of minutes.  
Interestingly, you can use the writing assistant in full-screen or popup mode.  What makes it even better is that Rytr is user-friendly, so you can use it on any device. I can think of two instances where I generated some blog ideas on my phone while I was out.
Multiple Languages and Tones
While most AI writing tools only offer English and a few tones, Rytr supports a total of 33 languages and 22 tones. 
And with such a variety of languages and tones at your disposal, you have very few limitations to generating content and increasing your audience. You can go international!
The languages supported by Rytr include: 
English 
Arabic 
Bulgarian 
Chinese
Danish 
Filipino
Greek 
Hebrew 
Indonesian 
Japanese 
Korean and lots more. 
Some of the tones supported by Rytr also include: 
Assertive
Candid 
Enthusiastic 
Formal 
Humorous
Informative 
Joyful 
Passionate 
Thoughtful
Urgent 
Worried and much more.
Diverse Use Cases
Rytr offers 38 use cases or writing templates for users to try. Each is capable of producing content that covers a wide range of topics. Some of the use cases include: 
Blog Idea and Outline
Blog Section Writing 
Copywriting Framework: AIDA
Email 
Facebook, Twitter, Linkedin Ads
Google Search Ads
Interview Questions 
Landing Page and Website Copies 
Magic Command
Product Description 
Profile Bio 
Reply to Reviews and Messages
SEO Meta Description along with many more
Due to the nature of my website I mostly use the Blog section for writing use case. A few well-spent hours with it and you will have a good blog post ready to go. 
I have also developed an interest in the Magic Command use case. It can be used to generate a more detailed output by making customized commands (inputs). 
Chrome Extension
Rytr has an extension that you can install on the Google Chrome browser. 
With the extension, you will be able to use Magic Command and the editing features on all the websites you visit. 
Here's how to use the extension after installing it:
Step 1. Choose your ideal language and tone. 
Step 2. Select the text to see the Rytr icon and then click on it to open the toolbar. 
Step 3. Activate the feature. 
Step 4. The selected text is then automatically replaced by a generated one.
This is only an early version of the extension, as time goes on it will be updated and new features added.  
Team Management
Collaboration is the name of the game now in the world of content creators. It is now common to see different businesses and creators working together to produce great content for their customers and audiences. That is why Rytr scores extra points for having a Team option to support collaborative content generation.
History
History basically works as a logbook for every text you ever generated, ensuring that you have access to them. Personally, I have not paid much attention to it. But in a world where data is as valuable as gold, you never know what you might need it.
Stats
This is another feature that stood out to me. It showcases your total usage of Rytr which includes time saved, money saved, and use-case usage. 
Keeping track of this information can be very important as a content creator. With it, you can see the types of content you produce most and use that information to make future decisions.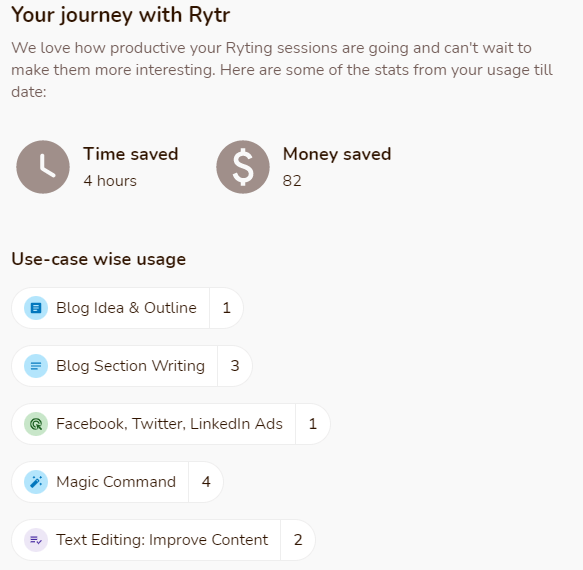 Rytr Price: How much does it cost?
Two of the greatest things about this AI writing tool is that it offers a free plan and a premium plan that is extremely affordable compared to others in the industry. Now you might think that Rytr's quality of service is poor because of its affordability but that is far from the truth. 
That only adds to its value.  
Free Plan
Rytr's free plan allows you to use it at completely no cost to you. The only catch is that Rytr has a credit system and you will only be given 5,000 credits (characters) per month. 
That's how I started out with them, for the purpose of this review I  stacked  3 different free plans. I ran through that 15,000 credits in no time, but by then Rytr proved to me that it was worth the money so I upgraded. 
Premium Plan
The cost for this plan starts and ends at $29 per month or $290 per year, when paid annually you will get 2 months free. For only $29 a month, you are able to generate an unlimited amount of characters while being assigned a dedicated account manager to help improve your usage of the software and get better quality outputs. 
You also have access to Rytr's ever-growing premium community along with priority email and chat support.
Rytr is new on the market so I suspect that their prices are this low because they want to attract customers. As they build up steam and start to add more features and fine-tune things I expect their prices to increase. In my eyes, the best time to get on the Rytr train is now while it is just leaving the station.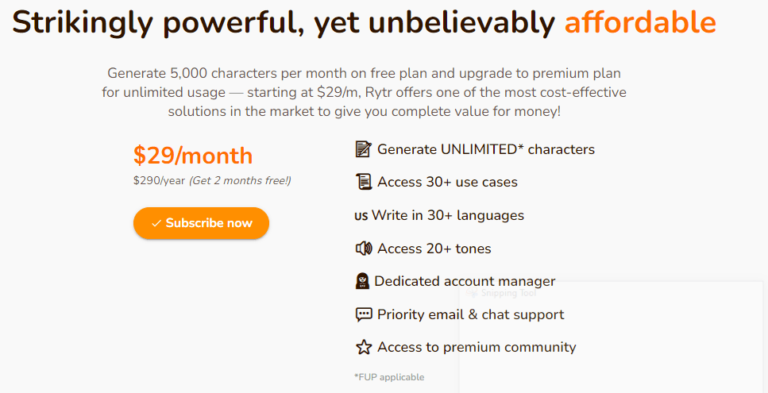 Start Ryting For Free
Our Verdict
We recommend using Rytr. It is easy to use, produces high-quality content, allows output editing, and is affordable. 
If you are familiar with writing software then there is no reason for you not to get Rytr, it has almost everything that you could ever want from an AI writing tool.  And if you are new to the writing scene then this would be a perfect way to get started. 
The easy-to-use interface and flexible writing and editing process will make it an ideal companion for any content creator. It is one of the best AI software to improve your content.
To get started with Rytr, you can do as I did and sign up for the free plan. All you need to do is hit Start Ryting! 
Start Ryting For Free