11 Best Affordable SEO Tools To grow your website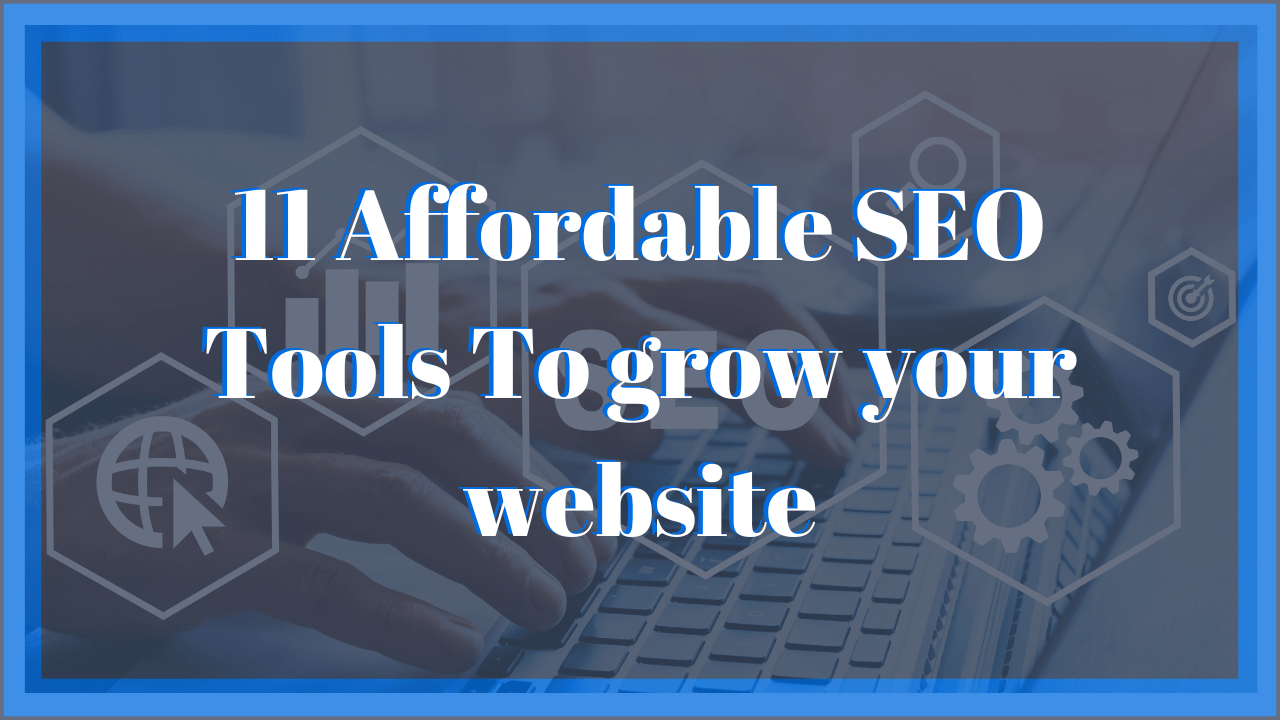 SEO (Search Engine Optimization) is one of the most important factors in operating a successful website. Having a good SEO strategy will help your website to:
Rank higher on SERPs (Search Engine Results Pages)

Attract more traffic; and

Improve your conversion rates, which ultimately leads to increased sales.
A vital part in developing a good SEO strategy is choosing the best SEO tool for the job. Unfortunately, many of the top SEO tools advertised are extremely overpriced, making them difficult for the average startup website to afford.
Luckily, there are tons of affordable SEO tools that offer high-quality features. This post is dedicated to listing 10 of them.
Most Affordable SEO Tools
For this post, the SEO tools are considered "affordable" if their basic paid plan costs less than $50 per month. All the prices listed were taken at the time of writing, any change in current prices will be updated when necessary.
This is a comprehensive and ever-evolving SEO tool that is stacked with valuable features rivaling all its competitors. When considering its catalog of features, Ubersuggest ranks as one of the best and most affordable SEO tools.
Cost:
The most basic pricing plan is the Individual Plan for $29 per month which is 70% cheaper than competitors like Moz, Ahrefs and SEMrush. Other subscription plans offered include:
The Business Plan for $49 per month; and

Their Enterprise or Agency Plan for $99 per month.
Ubersuggest also offer Lifetime Deals that are 90% more affordable than their competitors. They include:
The Individual Deal for $290

The Business Deal for $490; and

The Enterprise Deal for $990.
Usability:
Ubersuggest is a cloud-based SEO software capable of being used on any device. It also provides a Chrome Extension that allows you to access its SEO functions on the browser.
Satisfaction Guarantee:
It offers a 7-Day free trial for the subscription plans, and a 30-Day money-back guarantee for the lifetime deals.
Features:
Site Audit – This feature allows you to review your website in order to find and fix the SEO issues affecting it. The audit provides detailed information on what's causing the problems as well as how to fix them.

Keyword Research – Ubersuggest has features that can find profitable keywords and assess their search volume, SEO difficulty, and search trends. The Keyword Ideas and Keyword by Traffic functions are 2 of the most useful keyword features.

Rank Tracking – With this feature, users can track their website's search rankings overtime. Depending on your subscription plan or lifetime deal you can track multiple websites.

Backlink Analysis Tool – This SEO tool can analyze the backlinks of your competitors and find potential backlink opportunities for your site.

Competitive Analysis – Features like the Keyword by Traffic and Traffic Overview tools allow users to monitor the keywords and traffic of their competitors.
Supporting Services:
Ubersuggest offers an email based technical support service for every subscription plan or lifetime deal. Besides that it offers custom consultations and paid digital marketing services. Users can also take advantage of Neil Patel's free Digital Marketing Training Program to enhance their understanding of SEO concepts and the software's features.
This is a powerful and affordable tool for SEO and outreach management. The simplicity and efficiency of its features make it one of the best choices for email marketing, link building, and PR management.
Cost:
BuzzStream's Starter Plan cost $24 per month for up to 2 users. It has other subscriptions plans such as:
The Growth Plan for $124 per month.

The Professional Plan for $299 per month; and

A Custom Plan for $999 per month.
Usability:
Besides being accessible on all computer operating systems (OS) like MacOS, Windows, and Linux, BuzzStream has a chrome extension. Their extension, BuzzMaker, is easily installed and enhances your research prospects.
Satisfaction Guarantee:
The SEO tool offers a full access 14-Day free trial. Although it requires you to enter your credit card details, you won't be charged until the end of the trial period.
Features:
Research Tool – BuzzStream has broad research capabilities, allowing it to create prospecting lists with the contact information of people that are potentially valuable to your brand such as influencers, and potential customers or partners.

Email Outreach – The software has a built in email marketing program that simplifies sending personalized messages. BuzzStream includes a catalog of unique and easily customized email templates that are ranked according to their open rates, click rates and response rates. It allows users to schedule when emails are sent and automate follow-up emails. The efficiency of this feature puts all other email marketing strategies to shame.

Marketing Campaign Management – BuzzStream's interface makes it easy for users to manage their emailing campaigns by showcasing the contact, response and success status of each email sent. It also supports team coordination by enabling users to view their team's activities and assign tasks.

SEO Link Building – Both the Research and Outreach features support an efficient link building strategy. By using the research tool, users can identify the contact information of relevant players within their industry while the emailing feature allow users to contact them in the best way possible.
Supporting Services:
BuzzStream offers a small library of video tutorials that includes lessons on how to research contacts, and how to conduct outreaching campaigns and manage them. There are also live training webinars to give users a walkthrough of the software and the best ways to maximize the impact of its features.
BuzzStream University is another resource available that provides comprehensive lessons about the SEO tool, it has over 70 video lessons available. At the end of this training program, users will get a Bachelors Degree in BuzzStream.
Basic support and security services are available through email.
SpyFu is a comprehensive SEO tool that helps users to track and spy on their competitors. Compared to other SEO tools, it has the most powerful competitor analysis features and unique methods for backlinking opportunities.
Cost:
SpyFu's Basic Plan costs $33 per month or $396 per year for an annual subscription and $39 per month for the monthly subscription.
The other pricing plans include:
The Professional Plan for $696 per year for an annual subscription and $79 per month for the monthly subscription and

The Team Plan for $2,388 per year for the annual subscription, and $299 per month for the monthly plan.
Usability:
Unfortunately, SpyFu doesn't offer a chrome extension.
Satisfaction Guarantee:
SpyFu has a hassle free 30-Day money-back guarantee for all subscription plans.
Features:
Competitor Analysis – SpyFu has a Competitor function that allows users to review their competitors' SEO strategies. By entering your website's domain, the software scans for the top 5 competitors and details their entire SEO performance. The Kombat tool takes it further by comparing your domain against 2 of your closest competitors, comparing the keywords all 3 rank for and bid on.

PPC Research – SpyFu's features for PPC (Paid Per Click) research allow its users to review the paid keywords and traffic details of any domain you enter.

Ranking History – This feature allows you to review the search engine ranking of any domain over a period. It showcases the data on organic clicks, organic keywords, and the average SERP position a domain as graphs.

Backlink Analysis – SpyFu has a unique Backlink Report feature that identifies backlinking opportunities connected to high-value keywords.
Supporting Services:
For technical and customer support, SpyFu has a live chat system that's available on weekdays.
Other supporting resources include:
Written and video tutorials

Blog articles with helpful SEO tips; and

A glossary detailing all the concepts and terminologies related to SEO.
This is another cheap SEO tool that adds tremendous value to technical SEO improvement. GTMetrix is one of the best page speed tools that provides an in-depth breakdown of the factors affecting a website's speed.
Cost:
GTMetrix pricing plans are divided into 3 categories:
Individual

Business; and

Custom
The Solo Plan is the most basic paid individual plan and costs $9 per month or $109 per year for an annual subscription, while the monthly subscription cost $13 per month.
The other Individual plans include:
The Starter Plan is for $25 per month (monthly subscription) and $217 per year for the annual subscription; and

The Growth Plan for $50 per month and $434 per year for an annual subscription.
Usability:
The GTMetrix Speed Analyzer Plugin is available on Chrome Web store as an extension. It's designed to check and report on the overall speed of a website while on the webpage. The main software is also compatible with all major OS.
Satisfaction Guarantee:
This SEO tool provides a completely free Basic account enabling users to access almost all of its features.
Features:
Performance Breakdown – The Performance Score and Metric features displays and outlines the results of a website's speed assessment. The performance score is recorded as a percentage while the performance metrics are as a detailed analysis, breaking down how quickly the unique aspect of the website loads.
It records data on the First Contentful Paint, Speed Index, Largest Contentful Paint, Time to Interactive, Total Blocking Time, and Cumulative Layout Shift.

Performance Tracking – The History tab uses graphs to monitor a website's performance overtime. It allows users to schedule tests on a daily, weekly, or monthly basis to record any changes in performance and the reasons for the change.

Mobile Device Testing – GTMetrix supports mobile testing for over 30 different mobile devices. It's able to identify specific weaknesses of a website that affect how it is rendered on mobile devices.

Ads Testing – The Adblock Plus feature allows the software to block ads on websites in order to identify any difference in page speed performance.

Connection Throttling – This enables users to test their website to see how it performs at different connection speeds. It's able to simulate Dial-Up, 2G, 3G, and DSL (Digital Subscriber Lines) connections.
Supporting Services:
The technical and customer support system for GTMetrix is email based and would take several minutes or hours to get a response for any request.
Additional supporting resources include Guides and Tips for getting started with the software, how to optimize WordPress, why your site is slow, and why it's important to use CDNs (Content Delivery Networks).
SEO PowerSuite is a collection of applications that gives users the opportunity to execute the entire SEO process on one platform. It has an extensive set of features which makes it able to satisfy all of your SEO needs.
Cost:
SEO PowerSuite only offers yearly subscription licenses. The Professional License cost $299 per year or $24 per month.
The SEO tool also offers an Enterprise License for $499 per year.
Usability:
SEO PowerSuite is fully compatible with all OS and can be downloaded on any PC. At the time of writing, there were no indications that it could be used on mobile devices.
Satisfaction Guarantee:
A completely free version of the software is available for users to test the basic features. Besides that, SEO PowerSuite also offers a 7-Day free trial for the Professional and Enterprise licenses.
Features:
Keyword Research – The Rank Tracker application has advanced keyword research capabilities. It has integrated every major keyword research tool (like Google analytics, Keyword Gaps, and Google Related Searches), enabling it to check the search engine rankings of an unlimited amount of keywords. It can also geo-locate the search engine rankings for specific keywords.
SEO Audits – The Website Auditor application works like search engine bots to crawl websites and perform SEO auditing. It audits sites based on the Core Web Vital metrics to outline the errors detected and potential solutions.
Backlink and Competitive Analysis – Both the SEO SpyGlass and LinkAssitant applications work hand-in-hand to perform backlink and competitive analysis. SEO SpyGlass uncovers the link profile of a website outlining its link history, backlink and referring domain quality, anchor texts used and much more. Customers can use it to assess their own site's backlinks or a competitor's.
LinkAssitant discovers potential link building opportunities based on a customer's preferred link building strategy (Guest Posting, Competitor Backlinks, Reviews, Link Pages, etc.). After choosing a strategy, the app will generate a list of high-quality backlinking opportunities and assist with the email outreaching process.
Supporting Services:
SEO PowerSuite has a supporting system that includes a chat bot to serve as a guide to the software's extensive Help Center and a live chat service. Its help center consists of written tutorials with guides for navigating the software, along with SEO best practices.
Connecting with a customer care agent can also be done through an email process. Live webinar events are also held by their customer support team for additional insights into the program and over the shoulder guides.
Mangools is a highly valuable and affordable SEO toolkit that provides 5 easy-to-use applications. With it, users can easily perform tasks like keyword research, rank tracking, backlink analysis, and competitor monitoring.
Cost:
Mangools' Basic Plan cost $49 per month for a monthly subscription and $229.20 per year ($29.90 per month) for its annual subscription.
The additional pricing plans are:
The Premium Plan has a monthly subscription of $69 per month and an annual subscription for $478.80 per year; and

The Agency Plan for $958.80 per year for the annual subscription or $129 per month for a monthly subscription.
Usability:
Mangools have provided its users with extensions for both Google Chrome and Firefox.
Satisfaction Guarantee:
A 10-Day free trial is available for potential users. It's risk free, so no credit card details are required. Mangools also offer a 48 hours or 2-day money-back guarantee.
Features:
KW Finder – This is a Mangool's keyword research tool, by simply entering a keyword, it generates a Trend Graph, and data on the Search Volume, Keyword Difficulty, Cost Per Click, and Paid Per Click for that word.
SERP Watcher – This app act as a rank tracking tool, it lets users monitor their website's SERP rankings for specific keywords. It monitors a website's performance for desktop and mobile searches, along with its search performance across various locations.
SERP Checker – This application is used for performing SERP and competitor analysis for keywords. It highlights the highest ranking websites for particular keywords and display metrics on their Estimated Visits, Domain Authority (DA), Page Authority (PA), Citation Flow (CF), Trust Flow (TF), and some additional SEO metrics.
Link Miner – This serves as a backlink checker, it reviews the backlink characteristics of a website for backlinking opportunities. Two of the most interesting aspects of this app is that it's an API for Majestic SEO, and that it showcases live previews of the referring domains.
Site Profiler – Its primary function is to check the SEO authority of websites by assessing their backlink profile and popularity. The SEO metrics used to determine these are DR, PA, CF, TF, and a few more.
Supporting Services:
Mangools offer chatbot and live chat services, which is perfect for those who need help with technical or account issues.
They also have a blog with posts on the latest trends in SEO and tips on how to improve your website. A Help and Knowledge center is also available for guidance on how to best utilize the different apps of the software.
Majestic SEO is a web-based backlink analysis and research tool that helps users to review the backlink profile of websites. It can reinforce any link building strategy and perform advanced competitor analysis.
Cost:
Majestic's price start with the Lite Plan costing $49 per month for their monthly subscription and $499.99 per year or $41.67 per month for the annual subscription.
Other pricing plans offered are:
The Pro Plan costing $99.99 per month; and

Their API is for $399.99 per month.
Usability:
The Majestic Backlink Analyzer is accessible on the Chrome Web Store as an extension. It works by counting the links and identifying the websites linking to the webpage you are browsing.
Satisfaction Guarantee:
A limited free version is available along with a 7-Day money-back guarantee for the first time subscriptions to the Lite and Pro plan.
Features:
Site Explorer – This is the key feature of Majestic, and its primary function is to display a website's complete backlink profile. Like its counterpart, Mangools, it uses the metrics Trust Flow and Citation Flow to measure the strength of the website's profile.
It also makes use of data related to:
External Inbound Links (Unique and Duplicate Links)

Referring Domains

Referring IPs

Referring Subnets; and more
Link Context Report – The backlink analysis process is taken further with this feature. It provides an extensive breakdown of each individual backlink a website has. Tags are included in the breakdown of each backlink, identifying if they're old, new, do follow, or no follow links.
Related Websites – This feature puts together a list of websites related to the one that is being analyzed in Site Explorer.
Compare -With this feature, you can view the link profile of multiple competing domains side by side. It's an excellent tool for competitor analysis since it has the capabilities of finding potential linking opportunities and the links that are shared between all the listed domains.
Keyword Checker – An SEO tool wouldn't be complete without a keyword research tool. With it, users can search for a keyword to determine its SEO metrics. The Keyword Generator feature is also helpful since it creates keywords lists from other related websites.
Supporting Services:
A 1-on-1 training session from a support specialist is available for learning how to best use the SEO tool. Contacting customer support to address any technical or account problems is done through a contact form. Responses are made on weekdays during UK business hours.
Other supporting services offered include:
Onboarding Instructions

FAQs

A Blog; and

Tools breakdown.
Raven Tools is a cloud-based service that helps organizations and individuals manage SEO and online advertising. Raven Tools gives you the power to research, analyze and track search trends, monitor social networks, along with create and manage ad campaigns.
Cost:
Raven Tool's prices start with the Small Biz Plan for $49 per month and $468 per year or $39 per month for an annual payment plan.
The Start Plan is another pricing option and costs $109 per month.
The Grow Plan is the final pricing plan and is for $199 per month.
Usability:
The SEO software has a simple interface that will be easy to use. Unfortunately, they don't offer a chrome extension.
Satisfaction Guarantee:
Raven tools offer users a 7-Day free trial period.
Features:
SEO Audits – The software can perform a technical SEO audit on any website. It includes priority recommendations for major SEO issues that need correcting.
Rank Tracking – Raven Tools can analyze the overall rank of your website for specific keywords. It details the positions of all the keywords you have ranked for and provides a graph illustrating how your keyword positions have progressed overtime.
Competitor Domain Research – The Competitor Analyst Tool integrates data from Moz and Majestic to analyze your competitors' domains and pages. It can perform competitor keyword tracking, competitor rank tracking, and more.
Keyword Research – With this tool, you can find keyword suggestions and search engine data based on any keyword input. It allows you to filter and organize your results and export the data as you need it.
Social Media Marketing – The Social Media feature enables users to manage their entire social media campaigns for all platforms (Facebook, YouTube, Twitter, and LinkedIn) from the Raven Tools platform.
Supporting Services:
Communicating with Raven Tools' customer support team is done through a contact form.
SEO tool also allows access to their Resource and Help Center, which have video and written tutorials on how to navigate the platform and answer FAQs.
Keyword Everywhere is a cheap SEO tool that specializes in keyword research. It was once a free SEO tool but then became a paid tool in late 2019,
Cost:
This SEO tool has payment options that are based on a credit system. 1 credit is equal to 1 keyword.
The most basic plan cost $10 for 100,00 credits. The other plans cost:
$50 for 500,000 credits; and

$100 for 1,000,000 credits.
Usability:
This helpful and easy-to-use keyword research software has an extension that is available on both Chrome and Firefox.
Satisfaction Guarantee:
Because of its low cost, Keyword Everywhere does not offer a free trial or money-back guarantee.
The credits purchased are valid for up to 1 year.
Features:
Search Volume Data – Like all keyword research tools, Keyword Everywhere can recall the average monthly search volume for relevant keywords on search engines.
Keyword Trends – The software allows users to generate historical search trends for specific keywords from 2008 to the present.
Cost Per Click Data – This metric showcases the amount advertisers will pay for a single click of a keyword in Google Ads.
Competitor Keyword Search – Users can view the keywords of any webpage that rank in the top 20 spot for Google search results.
Supporting Services:
Keyword Everywhere's customer support system is based on an emailing process. Their FAQs may serve as an alternative for tech support.
Linkody is an excellent and cheap SEO tool designed specifically for link building. It works by monitoring the backlinks to your site and then sending email reports with information on performance and backlink opportunities.
Cost:
Linkody's pricing plans start with the Webmaster Plan for $14.90 per month.
There is also the Advanced Plan for $24.90 per month, and the Pro Plan that cost $49.90 per month.
Usability:
The Linkody platform has an intuitive interface. But unfortunately, doesn't also offer any extensions.
Satisfaction Guarantee:
If purchasing a yearly subscription, Linkody will give you 3 months. Apart from that, a 30-Days free trial is available for normal users.
Features:
Backlink Audit – Linkody can crawl websites to assess their backlink profile. This feature will display the links' do follow or no follow status, domain authority, spam score and several more SEO metrics. It also can perform around the clock backlink monitoring of a site.
Competitor Analysis – The software can execute searches on competitor websites to gather a detailed report on the amount and quality of their backlinks.
Disavow Tool – This feature allows you to remove harmful backlinks that could negatively affect your backlink profile and increase your website's spam score.
Integrations – Users can connect their Linkody account to Google Analytics, allowing them to broaden their backlink analysis. The software also uses some Moz metrics to more accurately grade the quality of backlinks.
Supporting Services:
In order to contact their support team, users will have to utilize Linkody's live chat or contact form.
A blog is also available as a learning resource. It has articles related to improving your site's SEO performance along with some digital marketing tips.
Screaming Frog is a multi-purpose tool capable of performing SEO, Social Media Marketing, and Public Relations (PR) management.
Cost: Their Paid Version cost $209 per year or $17 per month.
Usability: This tool is a downloadable software that is available on any operating system.
Satisfaction Guarantee: Screaming Frog has a completely free version that can be downloaded, offering limited use.
Noteworthy Features:
Social Media Marketing – Screaming Frog has the capabilities to manage the messages and posts of your accounts on all the social media platforms. The tool offers Social Media Consultancy, and Monitoring services along with Brand Management and some more interesting services.
Technical SEO – This feature provides comprehensive SEO services to users. It involves a full SEO audit, SEO consultancy, keyword research capabilities, and website migration help,
Digital PR – Subscribing to Screaming Frog gives users access to their highly experienced Public Relations (PR) team. With their help, users will build a powerful brand for their site and better connect with customers.
Link Building – This service helps with all the steps for developing a strong backlink profile. It performs backlink audits and helps with content marketing and outreach management.
Copywriting – The software helps with content creation by providing copywriting services SEO friendly. It is useful for creative writing, product descriptions, blog posts, and service or landing pages.
Supporting Services:
Accessing technical and customer support services is done through a contact form or email. Because of Screaming Frog's location, their operating hours are based on UK time.
AnswerThePublic is a simple keyword research tool that provides search data and visualizations for keywords to help users discover untapped content ideas and relevant long tail keywords.
Cost: The platform has 3 pricing plans; Individual for $9.00 per month, Pro for $99.00 per month, and Expert plan for $199 per month.
Usability: The software is web based and has a simple interface which makes it easy to use. It does not offer any extensions or downloadable tools.
Satisfaction Guarantee: AnswerThePublic offers a 7-day free trial for all pricing plans so that users can freely test out the planform.
Noteworthy Features:
Visualization – When searching for keywords, the software will generate a graphic displaying the results of the search. The keyword results are displayed as branches with the original keyword being at the center.
Search Listening Alerts – This is a useful feature that allow users to set weekly email alerts for new keyword suggestions, finding emerging topics and identifying seasonal trends in a niche.
Education And Training Package – AnswerThePublic offers a free education and training package that focuses on how to optimize keyword results by using the most relevant keywords, how to learn about what influences your audience, and how to determine the popularity of your brand.
Supporting Services:
Pro users have access to the platform's Priority Customer Support which provides on-demand online support to clarify any misunderstanding when using the tools or to help with any technical difficulties.
Alternatives: Free SEO Tools
The SEO community is also saturated with free SEO tools. Using many of these tools has become almost compulsory since they are so integrated with Google's search engine.
Google Analytics
This is one of Google's many free SEO tools. Google Analytics can see how many people are visiting your website from Google search results, along with other traffic sources like social media or referred traffic. The free tool also allows you to analyze the performance of your keywords by displaying their click and impression rates.
The data found on Google Analytics were gathered from Google; it doesn't consider any other search engines.
Google Page Speed Insight
This is a free SEO tool that analyzes every aspect of your site to measure its speed on both mobile and desktop devices. Site speed is an important factor that determines whether your site will be listed on Google.
Google Search Console
Google Search Console is another one of Google's free SEO tools. It's more comprehensive than the others since it measures a website's traffic and performance, and identifies issues related to indexing, on-page SEO, and broken links.
It also displays your performance on Google Analytics, tracking the number of clicks, impressions, click-through rate, and average ranking position.
Google Keyword Planner
This tool helps users find keywords for their search campaigns. It works like any other keyword tool by displaying an estimate of the search volume along with the cost of using them in a paid Google promotion.
To access this tool, you will need to create a Google Ads account.
SEO Quake
SEO Quake is a free SEO chrome extension that can perform real time SEO audits to provide organic search data and perform backlink and keyword analysis. Its SEO Bar feature enables users to get SEO summaries of any webpage they visit.
The SEO Dashboard feature is also active while in Google Search as a compact SEO info box below each search result.
Keyword Hero
Keyword Hero is a SEO platform that helps you identify keywords that apply to your business, and then find the best strategies for ranking them higher in Google's search engine results pages.
Final Thoughts
As the SEO community continues to grow, there will be a greater need for SEO tools to help beginners navigate this ever changing space. Unfortunately, the cost of some of the most popular SEO tools can be discouraging for those not yet familiar with the different options available.
This post was created so that we could share information on cheap SEO tools that add tremendous value to building a successful website. Many of these "cheap SEO tools" are way underpriced, offering a lot more value than they are worth.
Over time, as they become more popular, we expect their prices to increase in order to match the quality of service provided. Our advice is to get onboard now and choose the tool that best fits your needs. 
For tips on how to boost your website's traffic, check out our post on 8 simple SEO strategies.