Viddyoze Review 2022: The best Video Editor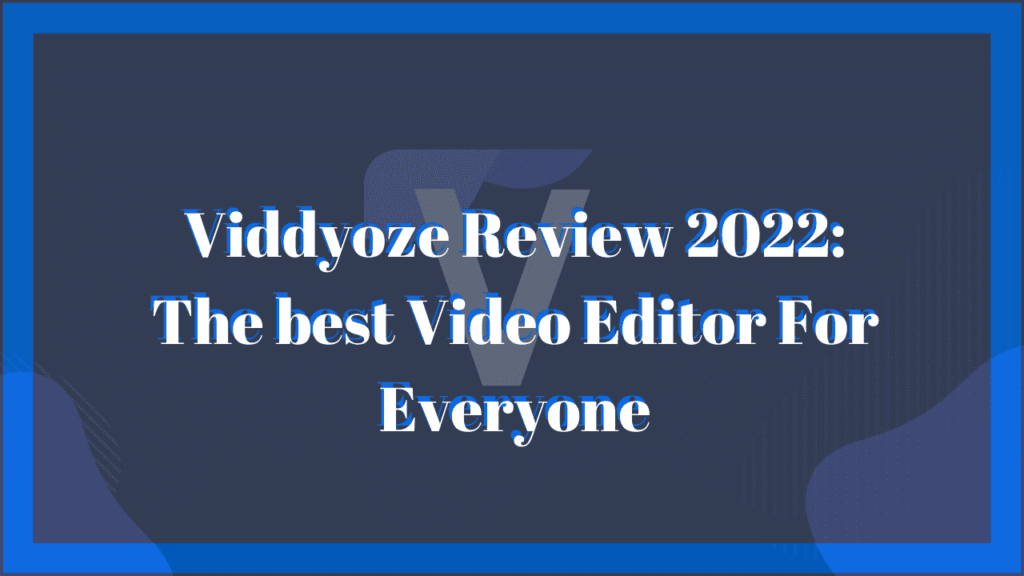 This is our review of Viddyoze.
We have been vaguely familiar with Viddyoze for some time now but didn't give them much thought until recently, and boy were we surprised. This software is the perfect tool for non-video editors who are looking to create the best possible videos at an affordable price.  
The goal of this review is to showcase the features and overall usefulness of Viddyoze to potential users and help them to make an informed decision.
What is Viddyoze?
Viddyoze is a cloud-based 3D animator and video creation tool that allows users to create professional-quality videos in a matter of minutes. It has a seamless video creation and editing process thanks to the use of video templates. 
It provides ready-made templates so that anyone, regardless of technical editing skills can create any type of video for any niche. Therefore, as a Viddyoze user, you will be able to create explainer videos and animations, videos for your YouTube channel, social media posts, business ads, etc. 
Viddyoze was created by the dream team of Jamie Garside, David Chamberlain, and Joey Xoto back in 2015. Since the initial launch of Viddyoze 1.0, there have been 2 additional launches of upgraded versions of the software, Viddyoze 2.0 (2016) and Viddyoze 3.0 (2017).
Pros and Cons 
Pros
100% cloud-based, no software download is necessary. 
It has an intuitive and user-friendly interface. 
Offers a minimum of 160+ video templates. 
Fully compatible with mobile devices. 
Able to create professional 3D animation videos. 
No technical editing skills are required to use it. 
Cons
Doesn't offer a free trial. 
The Individual plan has a monthly limit of 30 renders (videos). 
It can't be used without internet access.
Users can't add custom audio files.
User Interface 
Viddyoze template-based editing process along with its simplistic and easy-to-navigate design makes it one of the easiest video editors to use.
Startup Interface 
Because of the software's cloud-based nature, getting access to it is very simple since there is no download or setup process to go through. Once you have paid for a plan you instantly can start the video creation process. 
On the top left-hand side of the Viddyoze dashboard, there is a navigation bar with Template and Tutorial options that will take you to their respective pages. On the Templates page, in the upper middle area of the dashboard is a Browse search bar where you can search for specific templates. Directly below that are tabs that will showcase your previously used templates and the videos you have rendered in the past. 
On the lower left-hand sidebar is a template category list naming the all different template types available. To the right of that, in the middle of the dashboard are all the templates. You're given the option to filter them based on their size to match the type of video you're trying to create.
Editing Interface 
In keeping with the theme of the software, creating a video with Viddyoze is extremely simple. 
Here are 3 simple steps on how to use Viddyoze:
Step 1 is to select a template category and then the exact template you would like to use. For instance, if you wanted to create an outro video then you would select outro and then choose an outro template from the library. 
Step 2 is to customize the template with an image, logo, text (you can select a font), and audio. Of all the variables to customize, audio is the only one that doesn't allow you to upload your own file. You can only choose one of the suggested tracks. Step 3 is where you preview what the end product will look like, and if you're happy you can hit create for the video to render. From experience, it takes around 2 minutes or less to complete. Once the render process is done, you can download the video as an MP4 or GIF. 
Noteworthy Features 
Diverse Video Template Library
Viddyoze's primary method of creating some of the most attractive video content in such a short time is by using professional video templates. Viddyoze users will have a diverse template library with over 160 or 260 professional-grade templates at their disposal.
This stockade of templates will make creating videos from scratch obsolete. Users can select a template to match any niche, and these can be further customized to match your branding style. 
The vast collection of templates in the library includes: 
Live animations
Intros
Outros
Movie Filters 
Logo Stings 
Transitions
Lower Thirds, etc.
Professional Image Editing Tools
In addition to its template-based editing style, Viddyoze allows users to enhance their videos with the help of its stock image catalog and image editing tools. The stock images found on the software are sourced from stock media websites like Pexel, Pixabay, and Unsplash. These images add a greater range of versatility to your video projects. 
Viddyoze also offers the standard image editing tools you expect to find on any video editing software, but it also provides some of the more advanced ones. It has the tools to resize, crop, rotate, and edit the lighting of images along with removing the image background in one click. 
Customized Watermarks
With Viddyoze, you can protect your work from being used by others without them giving you credit. The software allows you to create customized watermarks and add them to your videos, only you will be able to remove them. Content theft has been happening more frequently in recent times, so this feature is a great feature to have as a content creator.
Lifetime Access to Tech Support and Updates
Viddyoze has a strong support system with its help section having over 100 articles addressing all the frequently occurring problems and frequently asked questions. If by some chance these articles can't address your concerns, you can submit a ticket with your query and the support team will contact you with a solution. Alternatively, you can email the support team, but this might take a bit longer to get a response with a solution. 
Once you have bought a Viddyoze licensing plan, you have lifetime access to its software updates. The updates will include new templates, features, or interface layouts.
The Reverse Sale Method Blueprint
This is a step-by-step video training series that teaches users how to sell video services online. It is added as a bonus product when you buy Viddyoze's commercial license. In this course, users will learn where they can sell their animated videos, how to maintain a stable customer base, strategies to quickly and sustainably scale their business, and how to use automation to create a hands-off business model.
YouTube Profits Elevator 
This is another video training series that gives users a roadmap on how to create a successful and profitable YouTube channel. It is also a bonus feature for the commercial licensing plan. What it does is provide users with a tested copy and paste method to perfectly set up their YouTube channel from day 1, mistakes cost time and money, so it's best to avoid them when you can. It also offers a method for becoming a respected influence in whatever niche you choose (it works best if you have 0 subscribers). 
Viddyoze Pricing
Viddyoze provides users with two options for licensing, these are the Individual and Commercial plans. Unfortunately, the software does not offer a free plan, but they make up for it with these affordable plans. 
Individual Plan:
This plan is perfect for personal use or for the entrepreneur that's a one-man army building his own online business. The plan comes equipped with all the previously mentioned features including 160+ templates and Viddyoze's Superstar Support services to help with any technical issues. It costs $97 and is a lifetime deal, users won't have to worry about making monthly payments to use it. Because it's a personal plan, users are limited to making only 30 renders per month. 
Commercial Plan: 
This plan is well suited for large-scale businesses and is also a lifetime plan that costs $127. It's stacked with all the foundational features of the individual plan but is further equipped with image editing tools, exclusive multi-ratio templates, multi-font support, and unlimited renders. The plan also comes with two free bonus features, the Reverse Sales Method Blueprint that's worth $197, and YouTube Accelerator that's worth $97. 
On the unlikely chance that you don't like the software, Viddyoze gives users the opportunity to get a refund with its 30-day money-back guarantee.
Alternatives to Viddyoze 
OpenShot 
OpenShot is a free, multi-platform, and open-source video editor capable of creating awe-inspiring professional videos. It is equipped with a diverse set of basic and advanced features that offer full control over the editing process, and are largely uncommon on free editing software. 
Features offered: 
Compatible with every major operating system such as macOS, Windows, Linux, and Chrome OS. 
Integration with Blender to power the 3D Animated Title feature. 
Provides Time Mapping and Speed Manipulation features.
Offers Clip Manipulation features to resize, trim, cut, snap, and rotate media clips. 
Provides a diverse catalog of video transitions, effects, and emojis to enhance video quality. 
Has audio mixing and editing capabilities. 
Pricing: 
HitFilm Express
HitFilm Express is a free and comprehensive video editing software that has a diverse set of features to help users create professional-quality video projects. Its interface streamlines your editing process and has the editing capabilities to import various media files, create voice-overs, and fully manipulate media elements on the timeline. 
Features offered: 
Free training and support 
Comprehensive editing features to create animation and transitions, add unlimited audio and video tracks, adjust 360° videos, and much more. 
Diverse catalog of video effects.
Works on both macOS and Windows. 
Audio syncing capabilities. 
Pricing: 
Free 
HitFilm Pro cost $349.
FAQs
What is Viddyoze used for?
Viddyoze is used for simple online video and animation creation. You can render a high-quality video within 5 minutes. 
Is Viddyoze a video editor?
Yes, Viddyoze is a video creation and editing software to help individual and commercial creators produce awe-inspiring videos and animations. 
Is there a free version of Viddyoze? 
No, unfortunately, Viddyoze does not offer a free trial. You can however use the software risk-free for 30 days thanks to its 30-day money-back guarantee.
Our Verdict 
Viddyoze is the dream of every content creator or entrepreneur with little to no experience in video editing. It is an online, affordable, and easy-to-use software that produces videos that match the quality of any professionally made video. We highly recommend it to anyone who is interested in building their own online business. 
Whether you're a lone entrepreneur or a part of a team, the Commercial plan would be the best choice because of the unlimited render, extra templates and features, bonuses, and Viddyoze lifetime deal. It works out to be a better deal, especially since everything is offered as a lifetime plan.