Authority Hacker Review: TASS and Authority Hacker Pro
This is our review of Authority Hacker. 
We have been students of Authority Hacker for over a year now, doing both The Authority Site System 3.0 (TASS) and the Authority Hacker Pro (AH Pro) courses. We can honestly say that there is major value to be had from their courses.
Both courses are comprehensive and informative, you will get a first hand view of the steps taken to build your very own website. It starts from the basics to create your site and goes all the way up to advanced methods to maximize its growth. 
If you are considering to start or further your entrepreneurial journey with Authority Hacker, then this review will give you all the information you need to make your decision.  
Table of Contents
What is Authority Hacker?
Authority Hacker (AH) is a resource for people who want to make money online with their very own website. They offer courses that provide clear and actionable information on everything from affiliate marketing to content creation and teach people how to create highly profitable authority sites.
Authority Hacker has been around since 2013 sharing their knowledge of the online marketing world via their website and podcast. 
Gael Benton and Mark Webster are the founders of AH and together they have over a decade of experience with creating authority sites. The great thing about these guys is that they don't just talk the talk, they also walk the walk
Here is a snippet of Gael's career up until now: 
Here is also a brief look into Mark's career before AH:
What makes Authority Hacker Special?
A case can be made that Authority Hacker is just another course that promises to teach you how to build a successful affiliate marketing website. After all, they are in fact just another online course, one among many. 
So what makes them special? Why should you spend your hard-earned money on any of their courses?
Everything that is taught by AH is field-tested, recommendations are based on AH's actual real-world experience. Gael and Mark have been in the 'trenches' and have built their own authority sites that have been successful. 
They have talked about how one of their websites (campsmartly.com) was sold for 6-figures. Another website AH created, healthambition.com has had over 25 million visitors since its creation. It is worth noting though that as of November 7, 2021, this website is receiving 6,200+ organic monthly traffic.
One thing that can never be disputed is AH's knowledge and expertise in the world of online marketing, it is evident when you listen to their podcasts and read their blogs. I actually signed up for their Pro course because I was impressed by their knowledge while listening to an episode of their podcast. 
You can also hear major players in the online marketing world singing praises to Authority Hacker
What is an Authority Site?
Authority sites are well-respected websites that have a positive track record for creating accurate and high-quality content in a specific niche. They are content-driven and serve as a reliable source of information for users and customers.
These websites consistently produce good content and value for their visitors, in turn, they are highly favored by search engine algorithms. And with this favor comes high search engine rankings and traffic volumes which can be easily monetized with affiliate marketing or ads. 
The ideal authority site is a website that uses quality content as its main commodity to generate passive income. 
The Different Authority Hacker Courses
AH has two courses: The Authority Site System 3.0 (TASS) and Authority Hacker Pro. 
TASS is the starter course specifically geared towards those who are beginners to the internet marketing scene. It provides a comprehensive breakdown of all you need to know about creating an authority site.   
The Authority Hacker Pro course is considered the flagship of AH's training program. This course is for intermediate and advanced persons who already have an authority site and is looking to take it to the moon. The pro course covers topics such as advanced SEO, scalable link building, email marketing, and much more. 
For this review, we will be covering both the TASS and Authority Hacker Pro courses, giving you all the juicy details on what you can expect and if it is worth your money and time.
Authority Hacker Review
Pros and Cons
Pros
Beginner Friendly – Authority Hacker breaks down the entire process of building an authority site. From the start, you will learn about how authority sites work, how to choose a profitable niche, how to plan and build a website, and so much more. Everything is explained and shown clearly, leaving nothing open to interpretation.  
Practical Advice – The advice given by AH is rooted in real-life experience, the courses only recommend tried and true methods that have been useful to AH in the past. If those methods are no longer applicable they are refreshed.
Updates Available – TASS 3.0 is just the latest iteration of the original TASS course, the 3.0 version was recorded from scratch and had 10 additional modules added to the original 5. The same goes for AH Pro, whenever a new or refreshed lesson is released you automatically get access to it. 
Provide Copy/Past Templates – The AH team includes tons of templates to help guide you throughout the different website creation processes. Have problems with writing an article? No problem, there are multiple templates to help with just that.  
Comprehensive Content – There are over 525 videos lessons between both courses, each accompanied by a text summary to give you different options to consume all the information they have to give.
Cons
Recommends premium tools – AH recommends some expensive tools that are not 100% necessary to create your site. Examples of this are Ahrefs which costs $99/month and HARO costing $49/month. There are cheaper and free alternatives to these tools so they are not necessary. 
Building a site takes a lot of time – AH uses a get rich slow model so it may very well take over a year for you to see any kind of profit. This can be discouraging to many.
Expensive – AH courses are without a doubt costly, especially when you consider how long it will take for you to see some profits. It also requires that you use some tools you will have to pay for so the costs are not just limited to buying the course itself.
Who is Authority Hacker for?
AH is ideal for people who are interested in taking advantage of the web to efficiently generate a passive income of at least $1,000 per month, and a job replacing income over time.
As mentioned earlier TASS caters to complete beginners who know next to nothing about what it takes to create a successful authority site, while Authority Hacker Pro is for those with more advanced experience. 
One thing is for sure though, both courses are for those who are willing to put in the time and effort into building a successful authority site.  
Building an authority site will not be a quick thing, you have to be willing to spend a couple of months properly building your site based on the lessons. In addition to that, it may take over a year to see any major results. You have to be in it for the long run, if you do not have the time for that then this particular course may not be for you. 
Also, the cost of this course extends further than just the initial purchase so having a flexible budget is a must.
How much does Authority Hacker cost?
At the time of writing, The Authority Site Systems 3.0 costs a one time payment of $997 or $249 per month for 6 months ($1,494 total). Authority Hacker Pro cost $1997 when available. A great thing about AH is that they have a 30-day money-back refund policy (they actually follow the policy), so you can give it a test run and determine if you like their content or not risk-free. 
AH also offers a significant discount for TASS of $398 OFF when you sign up after attending a free webinar they put together. If you are interested in getting this course then I honestly recommend going through this route.
The Authority Site System 3.0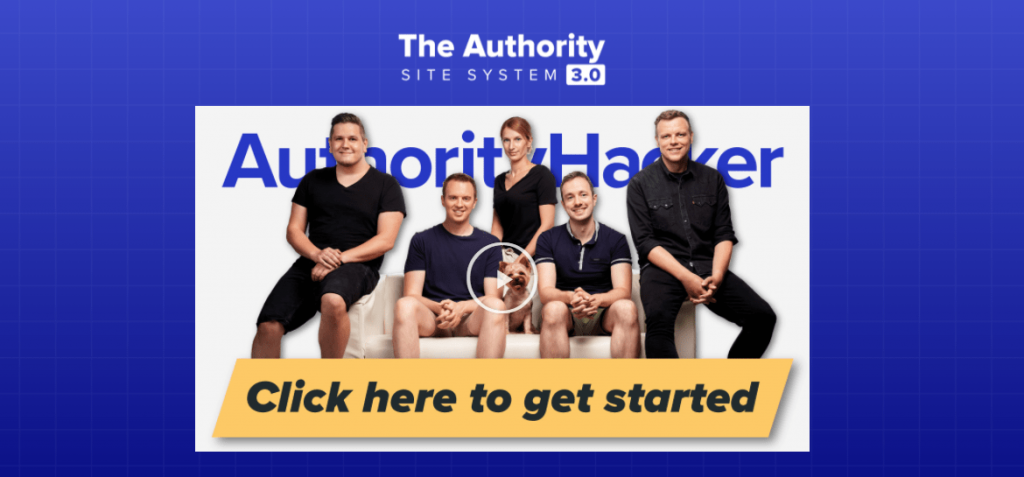 This course is a beginner's guide to building a stage 1 authority site. It provides a step-by-step process, taking you from A to Z, from niche research to site building, to content creation, to link building, and finally, to being a full-fledged authority site. 
Course Structure
The Authority Site System 3.0 is arranged into 15 (16 counting module 0) core modules with a total of 165+ video lessons.
The modules include: 
Module 0: Introduction
Module 1: Internet Marketing 101
Module 2: Brainstorming Niches
Module 3: Qualifying Niches
Module 4: Planning Your Site
Module 5: Setting Up Your Site
Module 6: Branding Your Site
Module 7: Setting Up Posts & Pages
Module 8: Preparing Info Content
Module 9: Writing Content
Module 10: Uploading & Optimizing Content
Module 11: Initial Link Building
Module 12: Affiliate Monetization Setup
Module 13: Commercial Content
Module 14: Advanced Tactics
Module 15: Becoming An Authority
The general concepts of all the modules can be divided into 5 sections: Introduction, Niche Research and Selection, Site setup, Content creation, and Link building
Introduction:
The opening modules 0 and 1 are all about giving you an introduction to The Authority Site System course and internet marketing. You get a walkthrough of what to expect during the course along with guidance on how to fully take advantage of it and achieve success. 
In module 0, AH offers a to-do list and encourages users to make a budget and list of expectations. Module 1 dives into the fundamentals of internet marketing explaining how authority sites are built, how they get traffic, and how they make money. This is done so you can have a clear picture of what lies ahead on your new journey.
Niche Research and Selection:
Modules 2 and 3 and their combined 27 lessons guide you through the process of selecting a successful niche. These are some of the most lengthy and involved lessons in the course, and rightly so. 
If you choose a niche with high search volume and high authority competition your site might be crushed by more established websites, and if you select a niche with low authority competitions and low search volume your website might be starved for traffic. The goal is to find the middle ground which might be more difficult than expected.
For these modules, Gael will give an over-the-shoulder view of how AH selects a niche perfect for building a successful authority site.
Site Setup:
Modules 4,5,6, and 7 make up this section of the course. It covers the technical requirements of setting up your website like buying a domain name and hosting service, setting up WordPress, installing relevant plugins, and creating pages. 
It is the most technical section of the course but no need to worry, you get a clear and in-depth walk-through of what to do, how to do it, and why you should do it.
Content Creation:
 Modules 8,9,10, 12, and 13 are responsible for giving you a format for how to write informational and commercial content. This is one of the most important sections because having good content will be a key factor in generating traffic and money your way. 
In these modules, Mark will be guiding you through the writing process he himself follows. You will learn what it means to create content for web users and Google, along with how to write different types of articles through the use of different article templates. You can also look forward to learning the best way to monetize your content with affiliate marketing.
Link Building:
The lessons of module 11 contain information on effective link-building strategies practiced by AH. Their main recommendation involves using the online service HARO and the Skyscraper link building strategy. Link building is an important aspect for getting your website ranked on google so these lessons can go a long way.
Noteworthy Features
From personal experience using TASS, we can say with certainty that AH offers some great features that make them stand out from competitors. Here are some noteworthy features I like about TASS:
165+ Video and Text Lessons:
As I previously highlighted as a benefit (pro) of AH, TASS is very comprehensive. It has a wide catalog of videos supplemented with text summaries. You can find close to 100% of all the information you will ever need about creating an authority site, this information is also updated as time passes and industry norms change. 
Ready-Made Templates:
This feature is a favorite of mine. TASS provides templates to help you make smarter decisions and to help you speed up the learning curve so you can efficiently apply the lessons learned from the course. The templates assist with niche research, site planning, and content creation.
They offer templates on how to write:
 Listicles/ List Articles
Question Articles
Single Review Articles
Versus Review Articles
Roundup Review Articles
Examples and Case Studies:
Throughout the course AH does a step-by-step walkthrough of how to create an authority site based on TASS lessons, they literally teach by example. Having the ability to see how a website is created from scratch is a big advantage when you are trying to create one yourself. It boosts your understanding of the concepts and leaves little to the imagination. 
Not only is AH following along with the course and building their example website, but they also mention actual sites they have created so you can look at live case studies.
Facebook Community and Support:
After signing up to TASS you will be given an invite to a  private Facebook (or should I say Meta) group. The group is perfect for seeking advice or asking questions to improve your website. Mark, Gael, and other AH team members will respond to your queries and try to assist you, it is also a good way for you to connect with fellow students and share notes. 
Outside of the FB group, Authority Hacker offers support that can assist you along your journey. In the past, they have helped students during the niche selection process to choose a successful niche.
Authority Hacker Pro
This course contains AH's collection of advanced blueprints to help existing and advanced authority site owners. It is for affiliates who want to attain stage 2 and 3 sites. Unlike TASS, this course is only launched once or twice per year. At the time of writing this article, the course is not available.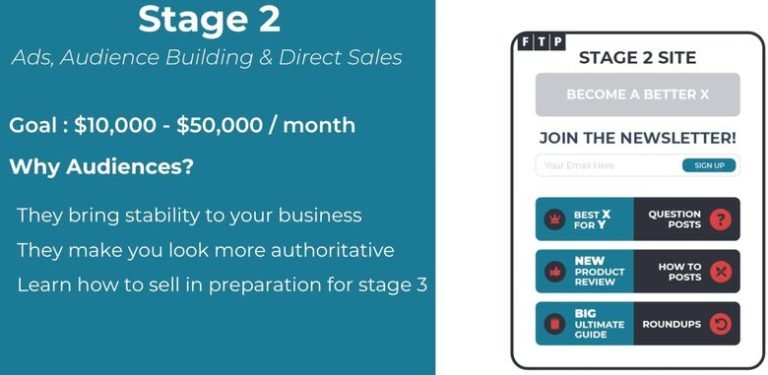 Course Structure
AH Pro is organized into 19 Blueprints each containing miniature or fully developed courses with different advanced topics. The full list of blueprints available includes: 
The Writer Training Blueprint
This blueprint serves as a guideline for writing online articles in order to improve your website's quality, it is not a Writing 101 course that will give you lessons on grammar and punctuation. If you outsource writers then you can share this with them.
Core Web Vitals
This blueprint is a comprehensive guide to master the Core Web Vitals metrics for your website. 
On-Page SEO Blueprint
You will be able to learn all you need to know about On-Page SEO from this blueprint. It covers the most basic On-Page SEO tactics all the way up to the most advanced.
The Authority Site System 3.0
This is the most recent version of TASS. As you already know, it is offered as a separate course but once you purchase Authority Hacker Pro it is automatically added. 
Growth Hacks Tips & Tricks
This is where you can find different tips and advice that AH has to offer but for one reason or another, they can not fit into any other blueprint. 
Editorial System Blueprint
In this blueprint, you will get information and templates to help increase the efficiency of your content creation and editing system. 
Building Your Editorial Team Blueprint
You will learn about what it takes to find and properly manage your own team of creators and editors.
Keyword Research Blueprint
This is where you will learn more about efficient keyword research tactics to find profitable keywords and build a top-tier content queue for your website.
Guest Posting Blueprint
You will learn about guest hosting and how to secure high-quality guest hosting opportunities in order to get links to your site. The blueprint has lessons that teach prospecting and negotiation strategies.
HARO Blueprint
The lessons here dive into how you can build high-quality links with the HARO (Help A Reporter Out) platform.
Shotgun Skyscraper Blueprint
This blueprint covers all of AH's techniques on white hat link building. The modules and lessons available are extremely comprehensive, it has everything you will ever need to know about link building.
The Authority Site System (Legacy)
This is the original version of TASS 3.0, it contains 5 modules of older material.
Evergreen Funnel Blueprint
With this blueprint, you will learn everything you need to know about evergreen scarcity funnels. It has lessons on funnel structure, product delivery setup, new customer setup, shopping cart setup, and much more.  
Selling Your Site Blueprint
The blueprint is ideal if you are ready to cash out from your website. The lessons have everything you will need to know about selling your site, you will learn how to evaluate your site, how and where to list your site, and how to close a deal.  
Lead Magnet Creation Blueprint
This contains lessons on how to efficiently create great and high converting lead magnets for your website. It also contains 2 of AH's recommended lead magnet templates. 
Giveaways Blueprint
Lessons in this blueprint give methods on how to create and promote giveaways, and how to grow your email list and social following. 
Content Promotion Blueprint
Here, you will learn about all the steps necessary to promote your content after publishing it. The lessons in this blueprint show you how to use social communities to promote your fresh content, and how to build your own social channels to spread your content further over time.  
Affiliate Marketing Blueprint
This blueprint teaches you the basics of how to get paid by selling someone else's product. You will learn how to find quality affiliate offers and drive traffic to them, and how to presell affiliate offers with content. The blueprint also goes into setting up real-life mini funnels that generate sales. 
Email Marketing Blueprint
In this blueprint, you will learn how to build and manage your own email backend, when to use broadcast emails as well as automation emails, how you can sustainably monetize your email list, and how you can partially automate your business.  
Noteworthy Features
Authority Hacker has ensured that the quality of both their courses remains high. The noteworthy features of Authority Hacker Pro are similar to the ones of The Authority Site System 3.0, the only difference is that AH Pro's features have a greater intensity. 
Where TASS provides 165+ Videos and Text Lessons, AH Pro offers 400+ Videos and Text Lessons. 
You can in fact find 100% of all the information you will ever need to create an authority site, plus you will have access to all updates. 
The templates in AH Pro are used in a wider range of topics such as content editing and lead magnets.
AH Pro has its very own high-level Facebook (Meta) group where you will have the opportunity to connect with advanced members and get advice from the AH team.
Our Verdict
We recommend using Authority Hacker, it is clear to us that they have gone above and beyond to provide two of the most comprehensive courses on affiliate marketing. Specifically, we would recommend you get the Authority Hacker Pro course. With the Pro you will also be getting TASS, so you can start from there and work your way up to the advanced portion. 
This is how we did it.
TASS is still a good pick, especially since AH Pro is only available a couple of times per year. Or maybe you just want to take it one step at a time, either way, they are both good courses that you will definitely get value from. 
It is important that you pace yourself when doing any of the courses, do not get carried away, and rush through skipping steps or doing multiple lessons at once. That is one sure way to become overwhelmed.
Another thing, IF YOU ARE SHORT ON TIME OR MONEY DO NOT TAKE ANY OF AUTHORITY HACKER'S COURSES. Nothing good will come from it if you do, you will become frustrated and feel as if you have been scammed.  
In Conclusion
That's all the information we have to share about Authority Hacker. Our experience so far has been a positive one, filled with knowledge and growth. 
If we convinced you to get any of their courses then happy learning we wish you all the success in the world, if not, then we hope you find something that better meets your needs. There are a lot of different courses and opportunities to earn passive income from the web so happy hunting.
We have more content on online courses so you can check those out for more reviews.