VSDC Free Video Editor Review 2022: Interface and Features
This is our review of the VSDC Free Video Editor.
To prepare for this review, I have tested VSDC Free Video Editor for the past 2 weeks to develop a better understanding of its capabilities. It has proven to be a powerful software with a versatile catalog of features, but unfortunately, it's lacking in ease of use. 
This review shares with potential users of this software my findings in determining whether it adds value. 
What is VSDC Free Video Editor?
VSDC Free Video Editor was created by Multilab LLC. and is a free, non-linear multimedia editing suite equipped with a wide range of features normally found on paid software. 
With VSDC, users can create and edit different video projects with a combination of video clips, images, audio files, animations, and any other media elements. The videos created can have a resolution as low as 360 pixels, or up to Ultra HD DCI 4K, and can be exported in a wide range of formats.
It is a free video editor with a powerful and comprehensive catalog of features. To support the software, free users can make a $4.99 contribution. For $10 free users can also get technical support for a month. 
What is Non-linear Editing?
Non-linear editing is an editing process that enables editors to change their video and audio projects without having to adhere strictly to the timeline. 
One of the best things about non-linear editing is that it's very flexible. As long as you keep your project in sync, you're able to make changes and reorder clips as many times as you like. Because it does not alter the original files, you can use the same content and timeline to build a new project from scratch.
Pros and Cons
Pros
Offers free video editing without adding watermark restrictions.
It supports multiple video, image, audio, and codec formats for import and export.
It supports video exports to all social networking platforms. 
It's one of the few free editors to produce 4K and HD videos. 
It's easy to download and does not need much to run on a PC. 
The Pro version is still affordable. 
Cons
A lot of features are hidden in submenus. 
The user interface is not intuitive, it takes a while to know where everything is. 
It's only available on Windows.
VSDC Free Video Editor User Interface
VSDC Free Video Editor is not the most straightforward piece of software to use. It has a dark interface, which might look cool, but it's cluttered with hundreds of tiny buttons, making it hard to find the exact tool you need. 
As a new user, it will be difficult for you to navigate the software since most of the editing features seem to be hidden from plain view. The best thing to do is to watch VSDC's tutorial videos as soon as you download the software. Spare yourself the time and frustration.
Startup Interface
After downloading VSDC Free Video Editor from the official website, the startup interface will have a pop-up showing you "How to get started in 3 easy steps!" The steps are to Open a new project, Start Editing, and Export A Project. The pop-up will also have a prompt to upgrade to the pro version. 
If you choose to exit the pop-up, the center of the startup interface has a section to "Start Projects Now". It gives 5 project options which include: Blank Project, Create a Slideshow, Import Content, Video Capture, and Screen Capture. Each option is an action you can take to use the software. 
"Get To Know Top Features" is the other section. It lists the 12 most popular features of the software, they include 360°and 3D Editor, Motion Tracking, Edit The Beat, AI Art Generator, Video Effects, UHD&HD, and many more. Selecting one of these options will give you a breakdown of how to activate and use the feature. 
Editing Interface
To use VSDC Free Video Editor, you must first select a project and fill out the Project's settings pop-up window. This is where you can specify your project details like the title, author name, copyright info, and description. It also has a device dropdown menu that allows your videos to be tailored for specific devices and platforms like iPhone or Android devices, YouTube, Facebook, Instagram, or Twitter. 
You can also specify the resolution, frame rate, width, and height along with a few more important settings for your project.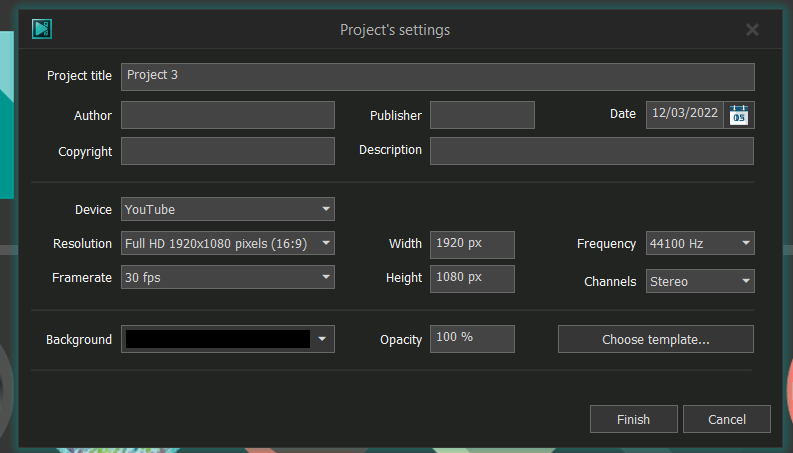 Once you're done, you will see the Files sequence wizard window. This allows you to set the transitions between video clips such as horizontal skew and fade out. Users can also drag-and-drop files in the Files sequence wizard and use it to rotate sideways or upside-down images and videos.  
The editing interface contains a basic editing screen that showcases your project, the timeline window, and quick access editing tools pinned around the editing screen. You can also add additional features to the editing interface with the help of the view menu in the toolbar.  
Toolbar
The top toolbar ribbon of the software will make the video editing process significantly easier. The toolbar contains 8 tabs. These are Projects, Scenes, Edit, View, Editor, Export Project, Tools, and Activation. Each has buttons and options that control your editing workflow. 
 In my experience, the View and Editor tabs are the most important because they contain the major editing features and effects of the software.
The View tab allows you to enable and disable various editing features and effects. With it, you can view or hide the Projects and Objects Explorers, the Timeline Window, Basic Effects, along with the Quick Access tools like the objects, editing, zoom, and playback tools. 
The Editor tab provides all the major editing effects and styles. From this tab, users can add objects and enable different Video Effects, Audio Effects, and Text Effects from their submenus. 
Learning how to use the toolbar ribbon, these two in particular, will shorten your learning curve.
Editing Capabilities
VSDC Free Video Editor can perform all the functions of a regular video editing software. You can import files by dragging and dropping them into the Files Sequence wizard or directly into the timeline window. The drag-and-drop interface can also function within the timeline to move clips between layers and to rearrange their sequence. 
Basic editing functions like cropping, trimming, and adjusting or aligning clips are available on VSDC's editor. It also offers features that allow users to add 3D charts and diagrams, shapes, texts, and subtitles to videos. With these, you can create some of the most versatile videos and presentations. 
Because VSDC Free Video Editor supports non-linear editing, you can blend, overlay, or mask media clips. With the help of these functions and some others, users can create a picture-in-picture (PiP) or watermark effect with little hassle. The PiP effect along with the video (or webcam) capture feature is great for over-the-shoulder videos.
The audio effects also add further functionality to the editor and are worth exploring. These effects contain features that add different filters to your audio and can play audio in reverse. There is also the amplitude feature that can amplify and silence audio files. It also has an option to invert sound waves. These can come in handy for editing music videos.
Outside of allowing you to choose the device and platform you want to export your work to, VSDC gives users the option to burn their videos to DVDs. Besides that, it allows you to upload or export 4K and HD videos directly to YouTube.
Free Video Effects and Features
VSDC Free Video Editor's video effects are submenus in the Editor tab on the toolbar. It contains additional submenus or options for the different visual effects available on the software. These options include Quick Styles, Adjustments, Filters, Transforms, Transparency, Special FX, 360 and 3D, Nature, and Transitions. 
These options provide a wide range of effects that add a different perspective and style to your video projects. 
Editing Styles and Filters
The Quick Styles option contains a catalog of editing styles that add eye-catching effects to clips. It also has Instagram-style filters for social media enthusiasts. The styles offered include Grayscale (100% to 50%) and Old Film, and the Instagram styles include Lomo-fi and Apollo.
VSDC's Filters submenu also provides options to pixelize, diffuse, or add motion blur and oil paint filters to video clips. 
Transforms
This option has tools that are capable of changing the placement and perspective of your media clips. It includes basic effects such as Zoom, Rotate, Crop, and Flip, along with others such as Perspective, Re-sample, Mirror, and Distort. These can add a fun spin to your project. 
Special FX
This creates unique video effects for enhancing the quality of the media elements. It contains a list of TV (television) effects that alter your video clips into looking like different TV screens. The effects include Aging TV, Broken TV, Random Dot Stereo TV, and Noise TV. Users can also take advantage of the additional effects offered, such as Glitch, Face Landmarks, and Virtual Dub Filter.
360° and 3D
With the increasing popularity of 360° cameras, comes the need for software that can actually edit their footage. To activate this feature, go to Editor < Video Effects < 360 and 3D. It has the capabilities to render 360° and 3D footage and convert them into 2D videos, 
When importing 360° video files, they will either look like a panorama or a divided screen in the editor. The editing interface for these types of videos gets tricky since you can not simply use the mouse to drag and adjust the viewpoint of clips (like other similar software). Users have to access the properties window and choose between an Equirectangular format and an Equiangular Cube map and complete some other steps that make the process entirely too complex. 
VSDC Free Screen Recorder and Video Capture
When installing VSDC Free Video Editor, there is an extra option to install the free screen recorder tool. 
The free screen recorder (unlike the video editor) is an easy-to-use, lightweight screen recording software that lets you capture your PC screen and save it as MP4. It can record any window on your desktop and connect to external devices like microphones, webcams, or video game consoles. With this tool, you can create tutorial, reaction, and gameplay videos. 
This, with the free editor, provides a full suite for you to create great media content.
VSDC Video Editor: Free Vs Pro
VSDC Video Editor has both a free and premium version (VSDC Video Editor Pro). The Pro version offers users access to an array of premium-level video effects and transitions not available in the free version. It also provides more advanced capabilities for free features and effects, allowing you to create the best video project possible. 
Noteworthy Pro Features
Motion Tracking
This is an advanced tool that attaches objects (titles, captions, images, or masks) to a moving element in your video. It analyzes the trajectory of a moving object in your video and then assigns the same trajectory to another object. 
It's great for placing censorship masks over moving (unsavory) elements, adding dynamic captions, or just adding a comedic flare to your video projects. 
If you don't have VSDC Video Editor Pro, you can get access to this feature by purchasing its plugin from the official website. By doing this, you will get an additional "Tracking" tab in the toolbar.
AI Art Generator
This feature operates on neural networks to transform your images and videos into unique and stylish works of art. 
The art generation process is completely automated. You first need to download the art template you want to use from VSDC's collection. You can then select the AI art generator option in the Special FX submenu for the algorithm to analyze your media file and combine it with the selected art template. 
Keep in mind that this feature requires tons of PC power to operate so, ensure that your device has at least an Intel Core i7 processor and enough space. 
Edit The Beat
If you're working on music videos, then this is the ideal feature to have. It is relatively new and works by synchronizing the video effects, images, text, or animation in your video to the beat of your audio. Imagine the image of a heart moving to the rhythm of a heartbeat. 
VSDC scans the waveform of your audio to generate a rhythm graph based on the frequency and intensity of the sound. The rhythm graph is then applied to the properties of the visual effect or image of your choosing. So, when you synchronized the zoom effect for an image to the audio, the zoom level will increase the higher the sound and remain normal in silence. 
HSL Chroma Key (Background Remover)
With this feature, users can remove a specific color from their videos with relative ease. By going to Video Effect < Transparency < Background Remover, you can identify and select the color you want to remove from your background using an eye-drop tool. 
With the eye-drop tool, you can click on the background and remove the selected color. The software automatically detects the color that needs to be removed. The HSL (Hue, Saturation, Lightness) panel in the Properties window allows you to adjust and specify the color you want to mask. 
How much does VSDC Video Editor Pro cost?
VSDC Video Editor Pro costs $19.99 and is far more affordable than any other software that performs the same capabilities.  
Free users can upgrade to pro easily by purchasing a licensing key and entering it into the Activation tab in the toolbar. All it takes after that is to restart the software, and you will have access to VSDC Video Editor Pro. 
Alternatives of VSDC Video Editor
Lightworks
This is a versatile video editor used for both Hollywood blockbuster projects and personal videos. The software is widely accessible, works across multiple operating systems and formats, and can create jaw-dropping visuals. 
Features offered: 
Simple and customizable user interface.
It works on Windows, Mac, and Linux
Supports collaborative work with other editors.
Supports a wide range of media formats 
It can produce HD, 4K, and 8K Videos
Lifeworks Pro offers a 50% discount for students.
Pricing: 
Free
Lightworks Create: Monthly subscription for $9.99; Yearly subscription for $99.99; Perpetual subscription for $154.99.
Lightworks Pro: Monthly subscription for $23.99; Yearly subscription for $239.99; Perpetual subscription for $389.99.
Openshot
This is a free and open-source video editor capable of working on any operating system. The easy-to-use interface and multilingual feature make it accessible to anyone interested in creating great multimedia content. 
Features offered: 
The user interface is simple and very intuitive. 
It's available on Windows, Mac, and Linux. 
It offers 3D animation for special effects. 
The software is available in 70+ different languages. 
Allows you to visualize audio as waveforms. 
Offers slow motion and time effects that can reverse and speed up videos.
Pricing: 
FAQs
Is VSDC Free Video Editor really free?
Yes, this video editor is free, no email signup no credit card  "free" does mean free for the Video Editor. 
It's a freemium software that offers both a free and an affordable premium version for $19.99.
Is VSDC Video Editor without a watermark?
Yes, unlike other free video editors VSDC's software does not restrict free users by enforcing watermarks on videos created on it. Users have free range to create whatever they like.
Is VSDC Video Editor safe?
Yes again. Before releasing new versions of the software, the VSDC team runs major antivirus scans to ensure that its files are 100% safe for download and use. 
Our Verdict
VSDC Free Video Editor has a powerful feature set that can definitely add value to your editing process. The only major disadvantage you would have to deal with is navigating its not-so-friendly interface. It is possible to overcome this flaw as you learn more about using the editor, but with so many other free editing software available it may not be worth it to you. 
With that said I would still recommend giving it a try. It's free and safe, so you won't lose anything by using it, and by successfully navigating the interface you will gain some extra experience points.
Get Started With VSDC Free Video Editor
If you're interested in more content about editing software then feel free to read our articles on Descript and 7 Amazing Things You Can Do With Canva Pro