Adam Enfroy's Blog Growth Engine Review (2023)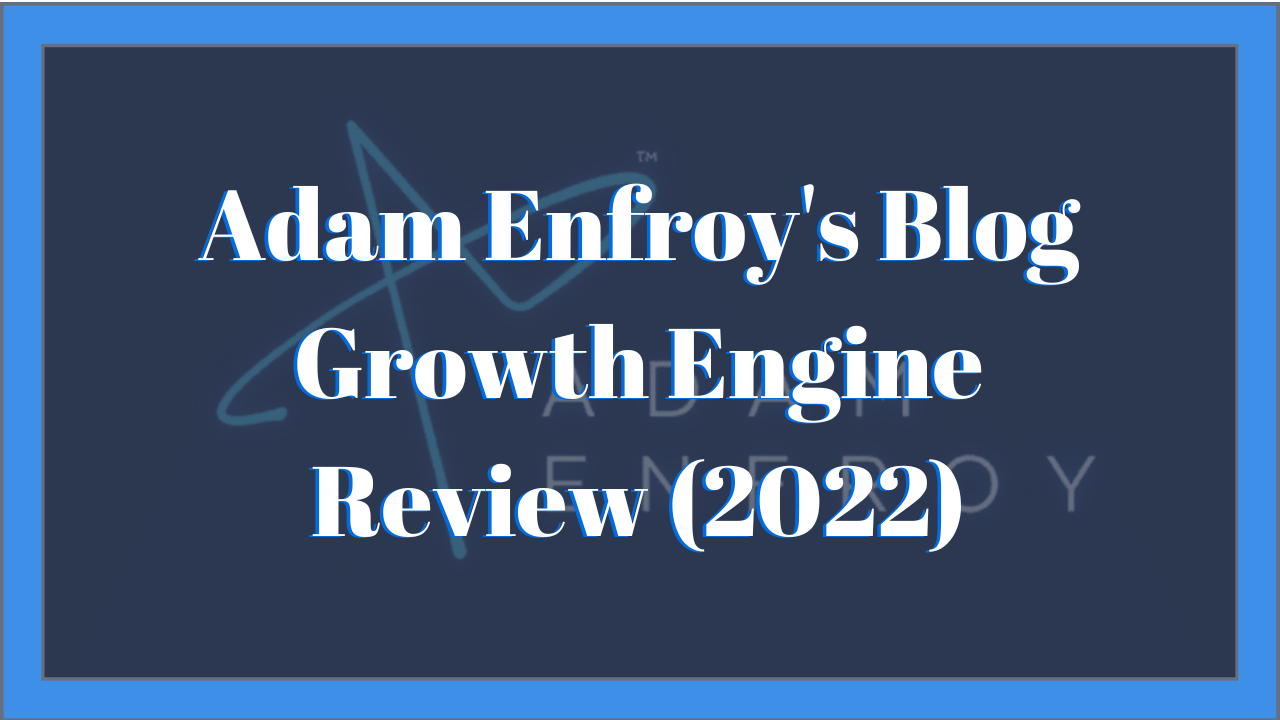 This is our Blog Growth Engine review
1 year ago, we came across Adam Enfroy's YouTube channel and was impressed with the quality of information in his videos. Naturally, we became interested in his course and checked it out for a review. We're happy to say that his paid content is more impressive than his free content. 
Blog Growth Engine Review – Main Points
Course Name: Blog Growth Engine
Price: Normal price is $3,497, discounted price is $1,497 (one time payment)
Pros: 14 day money-back guarantee, 1-on-1 coaching
Cons: course is too expensive, recommends SaaS products based on affiliate earnings
Overall Ratings: 4.5 out of 5 stars
What is Blog Growth Engine?
Blog Growth Engine is a course created by the well-known blogger Adam Enfroy. It's an online training program that teaches bloggers how to create, grow, and monetize their very own profitable blogging business.
In this course, Adam Enfroy reveals his step-by-step process for starting a successful blog and making money with it. He also shares his blogging tips and insights on affiliate marketing in order to help you build your own audience while earning commissions from products and services you promote.
Blog Growth Engine is well structured and comprises mostly of casual video lessons with some downloadable documents, 1-on-1 training sessions, and access to different online communities as supporting resources. 
These training resources make the course ideal for both beginners and experienced site owners since they contribute to a comprehensive and multi-level training program. Students can rely on the supporting resources to clarify whatever misunderstandings they have with a lesson. 
For example, they can use the 1-on-1 sessions to address specific problems related to writing their first article, maximizing their earnings from affiliate links, or improving their link building strategies.
Who is the Creator?
Adam Enfroy is a successful digital marketer and the founder of Blog Growth Engine and adamenfroy.com. He has been blogging since 2019 and has earned over $1 million dollars doing it within his first 2 years.
His relatively quick success within the blogging space is directly a result of his prior experience in digital marketing. Adam has held the positions of Affiliate Manager and Head of Digital Marketing for BigCommerce, which was a startup SaaS (Software as a Service) ecommerce platform.
Working as an Affiliate Manager, allowed him to directly interact with affiliate partners and observe their marketing strategies. From there, he knew what worked and what didn't. As Head of Digital Marketing, he learned how to execute high-level marketing strategies at scale while also successfully managing a large budget. 
By accomplishing the responsibilities of these positions, Adam Enfroy has proven himself to be competent, reliable, and trustworthy. These traits are reassuring to potential students wondering if they should take the leap and buy the course. 
What makes Blog Growth Engine special?
What makes Blog Growth Engine stand out from all the other Blogging and Affiliate Marketing courses is that it emphasizes on building your blogging business like a tech start up rather than a hobby. And in this startup, you are the CEO instead of a simple writer or web developer. 
By focusing on this framing, students are more willing to take extra steps to maximize their company's growth. 
Another unique factor around this course is that it encourages the students to build their website around their own personal brand. The common model of websites that were created using Blog Growth Engine uses its creator or CEO as the focal point. For example, adamenfroy.com. 
By adopting this model, you are building trust with your audience and customers.
Blog Growth Engine Review: Pros and Cons
Pros
Adam Enfroy is a legitimately successful blogger and digital marketer. 
Blog Growth Engine gives access to a supportive and Facebook community.
It has a 14-day money-back guarantee. 
Each member gains access to a private link sharing Slack group.
Blog Growth Engine provides 1-on-1 coaching for the different stages of your blogging business.
Cons
Blog Growth Engine is too expensive. It recommends SaaS products that are too expensive. 
Recommended SaaS products are based on high affiliate earnings. 
Blog Growth Engine Review: Course Structure
Adam Enfroy's Blog Growth Engine is broken up into 10 modules or phases. Each is vital to building different aspects of a website and contains at least 4 video lessons. The lessons are instructed by Adam and his partner Colin Shipp. 
It's common for some video lessons to be accompanied by supporting documents for blog templates and spreadsheets. Unfortunately, video transcripts are not a part of the supporting documents. 
The 10 modules for Blog Growth Engine include: 
Phase 1: Niche Selection and Blog Monetization
Phase 2: Your Mindset
Phase 3: Blogging like a startup 
Phase 4: Decoding Search Intent
Phase 5: Minimum Viable Website
Phase 6: Keyword Monetization
Phase 7: Blog Content Creation
Phase 8: Link Building Machine
Phase 9: Affiliate Marketing; and
Phase 10: Scaling and Outsourcing
Nice Selection and Blog Monetization: In this module of Blog Growth Engine, the 1999 Niche Selection and The Brand of You videos explain why branding your company is important and why certain types of niche websites are falling out of favor. Adam also dives into the specifics of what makes a niche special and how you can leverage that to help yourself.
Your Mindset: This module focuses on all the inevitable challenges you will encounter when operating a blogging business. It includes video lessons about Imposter Syndrome, Inevitable Pitfalls, The Devil on Your Shoulder, and 2.0 Timeline to Freedom.
Blogging Like a Startup: Adam addresses the major difference between blogging for leisure Vs blogging as a startup. The video on Startup Mentality describes the importance of being intentional with your thoughts and actions, and how to adopt the startup business model to rapidly scale your website. The other lessons in the module provide a framework to build on for future successes.
Decoding Search Intent: For this module, the lessons cover topics that highlight the importance of search intent. They also describe how students can identify their audience's search intent and fully take advantage of it. Two notable lessons are Search Intent Decoded and Why Search Intent Matters. 
Minimum Viable Website: The lessons are a walkthrough of how to build a functional and high quality WordPress website quickly. You will learn how to design the 4 core pages, install plugins, and some more useful skills. Your Toolkit, DIY Website Design and Your Four Core Pages are the video lessons available.  
Keyword Monetization: This is where you will learn the fundamentals of search engines and keyword research. It also teaches how to leverage that knowledge in order to find keywords with high financial value. Keyword Research Fundamentals, Keyword Monetization Matrix Part 1&2, and How to do Keyword Research Step by Step are some notable videos in the module. 
Blog Content Creation: This is the most populated module with 9 lessons. It goes in depth on the processes needed to create an assembly line of high quality content that is both SEO and reader friendly. Some valuable lessons it has includes Blog Post Structure and On-Page SEO, Minimum Viable Post Method, and Writing with Jasper.ai.
Link Building Machine: Link building is arguably one of the most difficult and important aspects of running a successful website. The lessons in this module build a foundational understanding of link building while also educating students about the best link building strategies. It is ideal for those who already have a blogging business but still struggle with link building.
Affiliate Marketing: This section of Blog Growth Engine teaches students how to monetize their websites using the products and services other people provide, affiliate marketing. Since the most recent updates, it also includes other monetization methods like Ads, YouTube, and Brand Partnership.
Scaling and Outsourcing: The final module of Blog Growth Engine is about knowing when to grow your website by outsourcing tasks to the right freelancers. There are also guidelines on how to model your day-to-day operations like a startup.   
Besides the video lessons and supporting documents, Blog Growth Engine also offers services that will serve as your guide while taking the course and long after you have completed it. These include: 
Unlimited 1-on-1 zoom calls with a blogging coach
An exclusive blogger community (Slack); and
Live hour and a half Q&A session weekly
How much does Blog Growth Engine cost?
Blog Growth Engine is one of the most expensive digital marketing courses. Fortunately, users can take advantage of the Blog Growth Engine discount payment options. It will however, still cost more than we are comfortable with. 
As of writing this Blog Growth Engine review, the normal price for the course is a onetime payment of $3,497. You can access this price by going directly to the Blog Growth Engine checkout page, but to save a couple thousand dollars it's best to avoid it. 
The best pricing option is to sign up for Adam Enfory's free Blogging Masterclass to get the course for $1,497 (one payment). It also other payment plans that include: 
A 3 month payment plan for $599 ($1,797 total); and 
A 2 month payment plan for $799 ($1,598 total).
Is Blog Growth Engine worth it?
Short answer, yes. Blog Growth Engine is worth buying. 
In this Blog Growth Engine Review, we uncovered that it offers an overwhelming amount of value as video lessons and supporting resources like 1-on-1 coaching sessions, private groups, and live Q&A sessions. 
When going through the course content for this Blog Growth Engine review, we were surprised by the level of information it had. A good deal of digital marketing and blogging courses have the same generic information that lacks any original concepts. Blog Growth Engine, however, has introduced an original method for growing blogging websites. Create them like startups. 
Following this method sets a framework for exponential blog growth. There are seven case studies posted on the BGE homepage of successful websites attributing their success to the course. By reviewing these websites, you can clearly see where the original concepts taught in the course are implemented. 
one of the few issues potential students might find with the course is its price, it is too expensive. If your budget can't handle the cost, then it's better to visit Adam Enfroy's YouTube channel and take advantage of the free content. Getting an alternative course that is more affordable may also be a good option.
Alternatives to Blog Growth Engine
The Authority Site System 3.0 (TASS) is Authority Hacker's course for beginners who want to learn about the internet marketing field. It provides a comprehensive breakdown of everything related to building an authority site. 
Notable Features:
30 day money-back guarantee 
Lifetime Access
Provides ready made templates for content creation; and
Access to a supportive Facebook community
Project 24 is a premium course that offers lessons to address the basic and advanced skills needed to operate a niche website and YouTube channel.
Notable Features: 
Access to Members only podcasts
Live Mastermind session for Q&A
YouTube specific course content; and 
Free access to Acabado WordPress Theme
This is a Free Digital Marketing Training program that focuses on 6 important aspects of running an online business:
SEO
Ecommerce
Content Marketing
Social Media
Online Marketing
Conversion Optimization
The lessons in the training program are in the form of videos, PDFs, and Excel spreadsheets, and they are geared towards developing the technical skills needed to become a successful digital marketer. 
Noteworthy Features:
The course is 100% beginner friendly
Supporting documents are available for all courses
Provides marketing strategies for multiple social media platforms
Includes video lessons that can also be found on YouTube.
Our Verdict
In this Blog Growth Engine Review, we covered all necessary details of the course that potential users must know. With all the pros, cons, pricing and features considered, we believe that Blog Growth Engine is a tremendously valuable resource. We would recommend it to anyone interested in becoming the CEO of your own blogging business. 
The only caution I would give is to only purchase the course if you can afford it. It's not cheap to buy, and it recommends products that cost more than necessary. Taking advantage of the Blog Growth Engine discount masterclass can help take some of the edge off the original price.