9+ Best Copywriting AI Software
In this post, we ranked and reviewed the 9 best copywriting ai software like Rytr, Jasper.ai, and Copysmith so that you can improve your content quality in no time. 
Content creation is one of the most important aspects of having an online business. From blogs to social media posts, creating content is one of the few ways you can engage with your audience and capture their interest. 
Copywriting ai are pieces of software that generate content using machine learning technology. They are a new form of content generation that enables copywriters of various levels and experience to create the best piece of written content possible.
What Are the Best Copywriting AI Software?
Rytr is a copywriting ai software that helps creators to generate high-quality content in a variety of formats for social media posts, blog ideas, emails, business idea pitches, and so much more. You are only required to select a use case and input a brief description and some keywords. Based on these guidelines, the software will generate the ideal output. 
All in all it's one of the best ai copywriting software currently available.
Key Features:
Output Editing – Rytr allows users to edit the outputs that were originally generated by using the additional AI-powered features. These include the Expand, Shorten, Rephrase, Append, Improve (fix grammar errors), and Paragraph tools. 
38 Use Cases or Templates – The diverse catalog of writing templates Rytr has can produce content that covers a wide range of topics and matches multiple formats. 
Chrome Extension – Rytr also has a chrome extension that can be accessed when writing an email or using browsing the web. It allows full access to all the use cases at all times. 
Multiple Languages and Tones – Rytr supports 33 languages which makes it one of the most inclusive copywriting ai tools available. Besides the wide array of languages, the software also offers 22+ tones to capture different themes for your output. You can select the Joyful tone to generate a more upbeat output or the Urgent tone for a more serious result. 
Pricing: 
Rytr provides users with 3 pricing plans to satisfy their copywriting needs: 
Free
Saver Plan: $9 per month ($90/year)
Unlimited Plan: $29 per month ($290/year)
Cons: 
The 5000 character limit for the free plan is too limited to test the software and decide if it's worth the subscription. 
It doesn't provide long form content generation.
Formerly jarvis.ai, this copywriting ai software uses machine learning and the latest GPT-3 technology to create high-quality content and streamline the writing process. It's ideal for marketers, copywriters, social media managers, and content creators of all kinds. 
Key Features:
50+ Copywriting Templates – Jasper has 50+ short form copywriting templates that allow you to create content for a variety of purposes. You can develop a comprehensive workflow by combining the use of different templates to generate well rounded content. 
Long-Form Content Generation – The Boss Mode plan gives users access to Jasper's long-form assistant, which enables users to create more open-ended results. It's more ideal for creators who want to create entire blog posts. 
Grammarly Integration – With this integration, users can use Grammarly's basic grammar checker and editing features to enhance your content by making it error free.
Surfer SEO Integration – This feature allows users to access Surfer SEO's tools to generate content that is fully optimized for certain keywords for ranking well on search engines. It also includes a content score to analyze the effectiveness of the contents word count and choice, headings and images used, as well as paragraph length. 
Copyscape Integration – Jasper AI can generate plagiarism free content thanks to the power of Copyscape. It will scan your content against a database of 8+ billion web pages to ensure that your work is original. 
25+ Language Support – Jasper can write and translate in 25+ different languages. With this, you can increase your audience base and grow your business.
Pricing: 
Jasper's pricing is divided into two plans with vastly different price points: 
Starter – $49 per month for 35,000 words per month. 
Boss Mode – Begins at $99 per month for 100,000 words.
Cons:  
Content details may be incorrect and need fact checking at all times. 
Too expensive for beginners. 
Does not offer an unlimited plan. 
Writersonic is an AI-powered content writing tool that can help you create content for blogs, ads for Google and Facebook. You can use it to generate articles and manage your social media campaigns more effectively.
Key Features:
The ability to create optimized content for Landing Pages, Headers, and SEO Meta Descriptions.
Offers digital advertising tools that allow users to create ads campaigns for Facebook, Google, LinkedIn, and other social media platforms. 
It has features that accurately generate entire articles and blog posts, along with blog ideas, intros and outline. 
Provide an ecommerce copy feature for creating product titles and description, sponsored ads, and sales email. 
Pricing: 
Free trial
Basic Plan – $15 per month
Professional Plan – $45 per month
Startup Plan – $95 per month
Agency Plan –  $195 per month
Cons:  
Unable to write highly researched articles. 
Free trial is limited.
Copysmith generates original, high-quality content at scale, with little human input. It's a new AI writing assistant that can be used as a marketing copywriter and content writer.
Key Features:
Offers a chrome extension so that users can access the software's capabilities anywhere. 
Allow users to create ads campaigns for Facebook, Google, and other social media platforms.
Allows users to create product descriptions in bulk. 
Provides users with an API.
Pricing: 
Starter Plan – $19 per month ($192 per year)
Professional Plan – $59 per month ($600 per year)
Enterprise Plan – Custom
Cons:
It does not allow credits to roll over to the next month. 
Some templates use multiple credits to generate content. 
Some templates aren't fully developed.
Copy AI is a great copywriting AI tool that's powered by machine learning and the latest advancement in GPT-3 to help marketers, copywriters and online entrepreneurs to generate short, high-quality content. It's the go to copywriter for brands like eBay, Nestle, and Zoho. 
Key Features:
90+ Content Templates – Copy AI has a variety of templates to generate different content types. It has templates for Digital Ads, Social Media Posts, e-Commerce Copy, Blog Ideas, and many more. 
Resources and Tutorials – Copy AI has an extensive catalog of resources as blog posts and video tutorials that help users with SEO, social media marketing content creation and so much more. 
Chrome Extension – This feature gives users the ability to use all Copy AI's features while simultaneously browsing the web. It saves a lot of time and effort. 
Plagiarism Checker – Copy AI also has a plagiarism checker that accurately identifies and edits your content so that you maintain good grammar in your work. 
Supports Multiple Languages – The software is compatible with several languages, including Spanish, French, Portuguese, and Chinese.
Pricing: 
Free Plan 
Pro Plan – $35 per month
Enterprise – Custom
Cons: 
It's only good for short form content like ads, blog introductions, product descriptions and headlines. 
You need to write long descriptions of at least 800 characters to generate a short result.
Peppertype helps users generate content with the click of a button. It uses artificial intelligence and machine learning to figure out what words are best suited given the context of your post. You could use this copywriting ai tool to create social media posts, blog posts, and reviews.
Key Features:
It has templates to generate short-form content for blogs such as blog ideas and outline, and blog posts introduction and conclusions.
It can create engaging content for social media. It is the ideal companion for social media managers and influencers. 
Peppertype is able to specifically create content optimized to rank well on search engines. By entering a few details, you will generate a SEO friendly meta description and title. 
Each user seat offers a word limit of 50,000 words per month. 
Offers a chrome extension for more accessibility. 
Pricing: 
Starter Plan – $25 per month for 1 user seat. 
Growth Plan – $165 per month for 5 users' seats. 
Enterprise Plan – Custom
Cons:  
It has a lot of typos and grammar errors. 
Does not generate long form content. 
The content generated can be inaccurate and needs fact checking when being used. 
Anyword is an AI writing assistant designed for businesses and marketing professionals. It will help you with creating high-quality content for ads, blogs, landing pages, emails and more. Using it will also generate leads that convert significantly better than your average human copywriter.
Key Features:
Anyword has an Ad Copy generator to create engaging content for Facebook, Instagram, Google, LinkedIn, Twitter, and Pinterest ads. 
Users can create content for landing pages to increase their website's conversions, turning recent visitors into customers. You will generate fully optimized headers, product descriptions, and CTAs (Call to Actions).
Able to generate high quality and engaging blog posts with just a few inputs. Users have to enter their ideal keywords and select the content length for the AI generated blog post sections. 
Can create targeted emails and email subject lines to engage your audience and boost business conversions. 
Has a Predictive Performance Score to estimate the potential effectiveness of the output. 
Offers an API to empower users to create more enticing content.
Pricing: 
Data Driven Plan – $83 per month (yearly subscription) with 2 months free. 
Data Driven Unlimited Plan – $266 per month (yearly subscription) with 4 months free. 
Enterprise Plan – $999 per month
Cons:  
Very Expensive 
User interface isn't the easiest to use.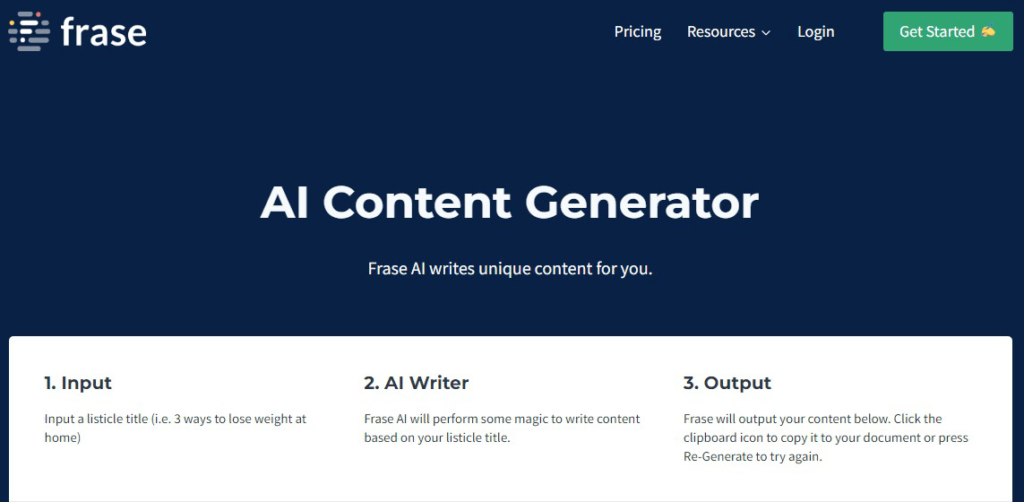 Frase is a content marketing and SEO tool that can generate a content brief or write a full article with the help of artificial intelligence. It is also great at generating relevant answers your audience may ask, making your website more insightful to customers. 
Key Features:
Allow users to optimize existing content using AI tools. By right clicking a sentence it will give you the option to Rewrite, Write about this, Write with transition, Contrast, Sequence, etc.
Perform question-and-answer research by using your keyword to generate a list of questions from popular sources like Quora, Reddit, People also ask, etc. this is helpful for creating a FAQ section in your blog. 
The Answer Engine feature is an AI powered chatbot that crawls the web to collect and learn content to build a knowledge base to answer potential user queries. 
Offers a variety of templates that generate different templates, ranging from content outlines, blog titles, introductions and conclusions, product descriptions, summaries, taglines, etc. 
Frase provides a catalog of educational videos and guides on how to fully use its capabilities.
Pricing: 
Basic – $44.99 per month ($33.99 if paid annually) 
Team – $114.99 per month ($99.99 if paid annually)
Enterprise – Custom
Cons:  
Content generated is not the most accurate. 
Doesn't have a free plan. 
Users will experience bugs on occasions. 
Outranking is a fast-growing SEO and copywriting ai tool that makes it possible for content marketers and SEO experts to outrank their competitors by writing content that's engaging, well-researched, and optimized.
Key Features:
Multiple Integrations – Integrates with various third party software like Google docs, WordPress, Gmail, and Grammarly. 
SEO Inspection – Grades your content based on SEO criteria that will affect your website's ranking. 
AI Powered Writer and Rewriter – By using SEO criteria and SERP statistics, Outranking's AI generates fresh and fully optimized content. It can rephrase existing blog paragraphs, write product descriptions and summaries. 
Keyword Gaps – Identifies keywords that your competitors rank for and helps you to generate content based on them. 
Pricing: 
Mega – $49 per month ($40 if paid annually). 
Giga – $99 per month ($82 if paid annually).
Tera – $189 per month ($157 if paid annually).
Cons:  
Occasional Low quality outputs. 
No longer offers a free plan. 
Not so friendly interface. 
What is Copywriting?
Copywriting is the process of writing text that has been designed to promote a product or service. It is the art and science of persuading people to take action, whether it be an action like buying a product, clicking on an ad or filling out a form. Copywriters use their creativity to find ways to make people want something they hadn't even thought about before.
Our Top Pick
These are three of the best ai copywriting tools that we would recommend using.
Wrapping Up
There you have it, our list of the best copywriting ai software.
With the recent boom in content marketing, AI powered copywriting tools have become more popular than ever. As a beginner things might get confusing when deciding which tool is the best to get so we recommend choosing one of our top picks. 
They are easy to use and will give you the most flexibility to create the best possible content for your business.