This is our review of Elementor
It has been almost two years since I was first introduced to Elementor, I first started with the free version and then went on to Elementor Pro.  Ever since then, it has been my close companion when creating web pages and posts, and I am yet to be disappointed with it.
It is an affordable, comprehensive, and powerful page builder. With it, users are able to create beautiful and unique designs for their websites.
The purpose of this review is to share my personal experience with Elementor so I can help others make a decision on whether they would like to use it or not. So sit tight and happy reading
Elementor Review
What is Elementor?
Elementor is a powerful drag and drop WordPress page builder plugin and in my humble opinion one of the best. 
It allows you to create unique and high-quality posts and pages that stand out from the standard and plain WordPress-themed templates. When using Elementor you are free to design your pages however you want without the need to write a single HTML, CSS, or PHP code. It's accessible to anyone, from an experienced web designer to a small bakery owner who has big dreams of branching out onto the web. 
What makes Elementor stand out from all the other page builders is that it is equipped with a laundry list of powerful features that would normally cost an arm and a leg to access. And not just that, it is extremely easy to use.
If you're just starting out with your website or looking for a way to improve the quality of an existing one, then Elementor is a good place to start.
What are Page Builders?
A page builder is a tool that allows the user to create a website or web page without the use of coding by adding blocks of content or elements via drag and drop editors. The elements are usually pre-defined templates for things like text, headings, paragraphs, images, galleries, videos, social media buttons, etc.
They have increasingly become popular in recent times because of how easy they are to use and their versatility. And of course, because more people are choosing to create their websites on CMSs like WordPress. 
Who is it for?
Elementor caters to a wide range of users. According to Elementor, the page builder is for: 
 Web Designers 
Marketers
Small Businesses
Developers
Agencies
Long story short, it is for anyone who has a WordPress website and would like to significantly and efficiently improve its visual quality.
Pros and Cons
Pros
It's easy to use. The modular setup of features along with the drag and drop editor makes it extremely easy for users to understand the interface. Tutorial videos are also available for in-depth lessons on how to use the page builder.  
Has a free version with a long list of powerful features that rival other page builders.
Supports responsive designs, you can optimize pages for mobile, tablets, and desktops.
Ability to integrate with other plugins. You can seamlessly integrate Elementor with SEO plugins like RankMath and marketing tools like Mailchimp among others.  
It provides great value for its price (for pro plans). For $49 you will have access to features that will enable you to create breathtaking designs. Blurring the lines between what a beginner and a professional web designer can create. 
Cons
Updates have caused glitches. Speaking from personal experience, a major update has resulted in glitches in some design elements. I was later able to find the solution with the help of the support chat but the situation did cause some unnecessary headaches. 
Affects performance/site speed. If you are in a blogging-related community on social media then you may know that the general consensus is that Elementor affects your site speed. Again, from personal experience, I agree. But because of its overwhelming positives, I decided to stick it out and use WPRocket to optimize my site speed (it has helped tremendously). 
How does Elementor Work?
Getting started with Elementor is pretty straightforward. Like any other plugin, you first install it from the WordPress dashboard, activate it, and then you're ready to go. 
When creating a new page or post in WordPress's default editor, there is an option to "Edit with Elementor". Selecting this option will replace the WordPress editor with Elementor's. The first thing you'll see in this editor is the content area, element library (left sidebar), and settings panel.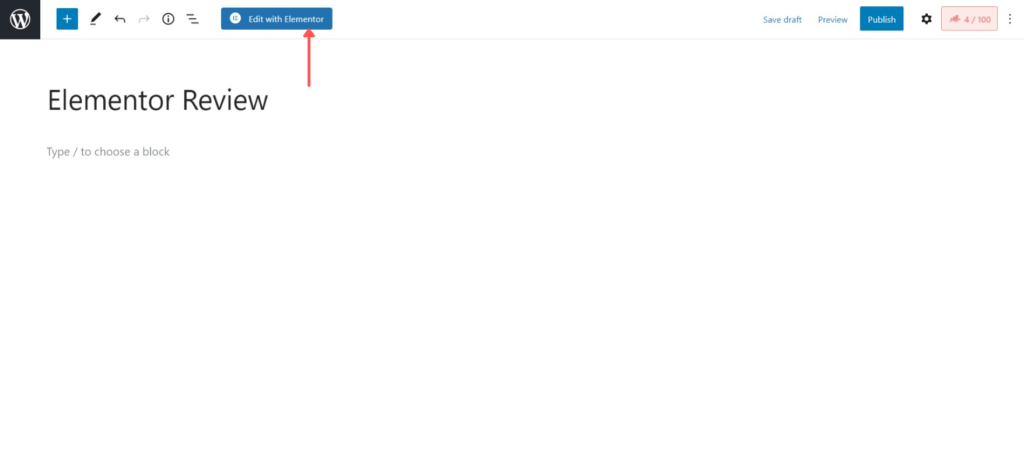 Content Area – Creating a Layout
This is where you'll build your own designs, all the elements added and changes made to designs will be shown in the gray dotted lines. Also within the gray lines are two buttons, the red one is for adding structural elements, and the gray one is for adding designer-made templates (We'll get to that later).

The first thing you need to do before building your design is to create a layout or structure. This is done with that red button, with it you'll be able to create sections and columns. These structural elements will hold the content of your design. Just for reference, sections are the broad layout blocks, and columns are held inside the sections.
Element Library – Adding and Styling New Elements
This area contains the building blocks for your designs, the widgets (or elements). This is where the drag and drop interface of Elementor takes into effect. To use the elements you will have to drag them from the sidebar into a section or column in the content area. 
To take it a step further, you can control and style both elements and columns/sections using the tabs at the top of the element library. 
By clicking the grid icon on the top right corner of the sidebar, you will be taken back to the elements library. The hamburger icon on the opposite (left) side of the sidebar brings up page settings (we'll dive into that later).
Setting Panel
This area contains features to help you view and manage your designs. 
Settings – this gives you the global settings of the page you are working on. 
Navigator – this is a navigation tree panel that provides you with easy access to every element on the page with a single click. It's perfect for long pages with complex multi-layered designs. 
Revision history (Undo, Redo) – this feature gives you a log of every change made and saved on the editor. You can click the icon to access the history panel which shows you details of every action taken on the action and revision tabs. 
Responsive Mode – this switches the view of your design between devices (desktop, mobile, and tablets).
Preview – allows you to view your designs on a separate webpage as if it was already published. 
Publish/update – once you've completed your design and are satisfied with it, this button allows you to publish it. If it's already published and you're just making an update, the button will say 'update' instead.
Noteworthy Features
300+ Designer Made Templates
While Elementor has a simple interface making it easy for anyone to create their own designs, arrangements are in place for those who lack even an ounce of creativity or would simply prefer to rely on existing designs.
By clicking the gray button in the content area you will access Elementor's template library which contains 300+ designer-made templates (150+ for the free plan). You can insert these templates with just a click and make further edits to get them exactly to your liking.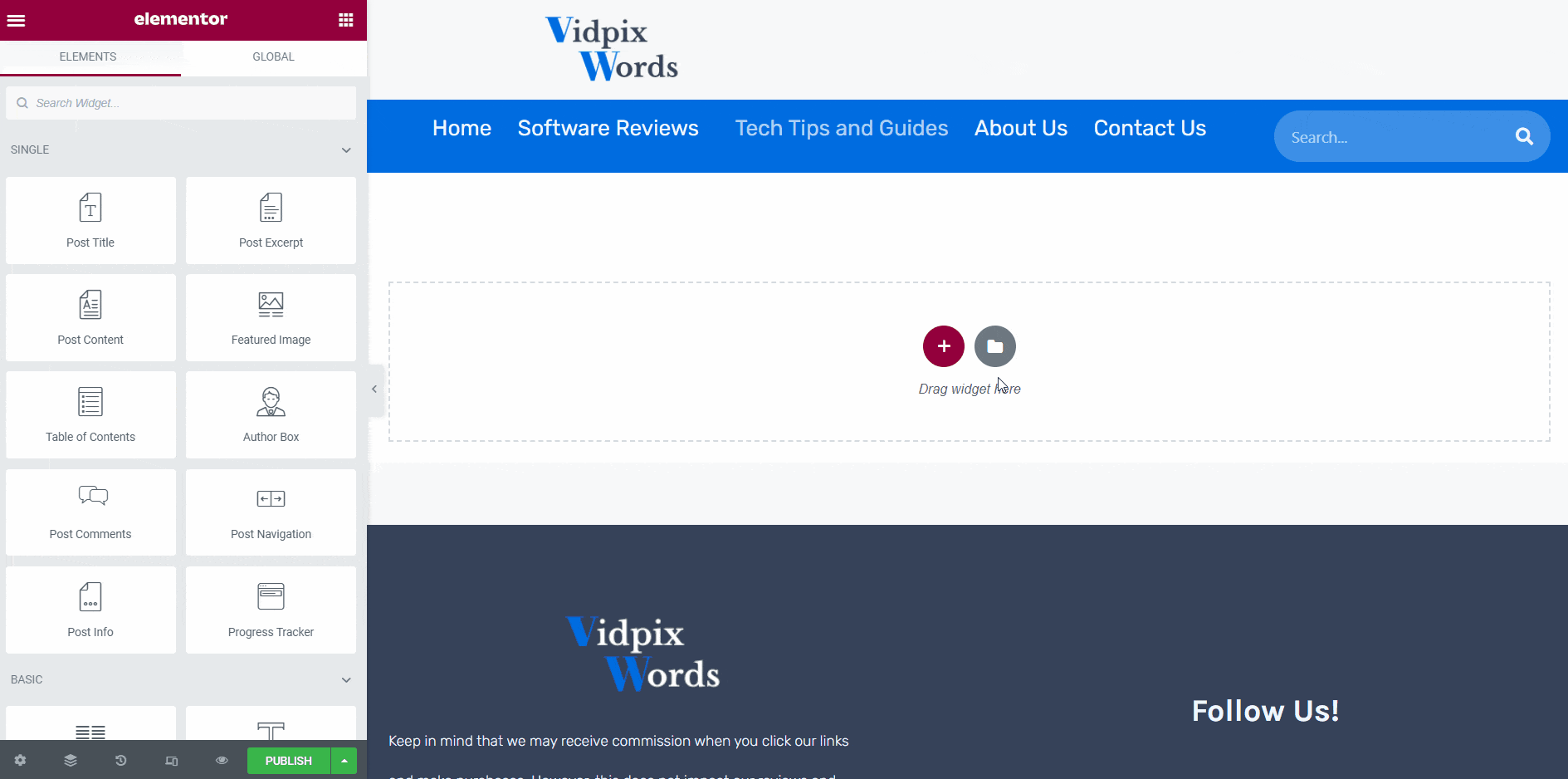 The templates come in different formats (blocks and pages) and styles covering a wide range of use cases and niches. You will find templates for homepages, landing pages,  about pages, and contact pages for various types/niches of websites like restaurants, photography, interior decorating, fitness, etc. 
All in all, the template library significantly broadens the scope of designs you can make and shortens the amount of time it takes to make them.
90+ Widgets/Elements
Widgets are the building blocks you'll use to put your designs together, and Elementor has a long and diverse list for us to choose from. 
First, there are the basic elements that are available with the free version. These cover simple elements that every professional website needs like heading, image, text editor, and video.
Taking it a bit further with the pro version are the pro widgets. These include elements that enhance the quality of your website's design like the navigation menu, table of content, and share buttons. 
There are also theme elements/widgets specifically for building and customizing major aspects of your website like the header, footer, 404 error page, and more.
You'd be surprised to know that in addition to all the widgets this page builder has, it also supports standard WordPress widgets.
Responsive Editing
At this point we all should know the importance of having a responsive website, people are increasingly using mobile devices to surf the web so it's a must. This is why Elementor by default creates responsive designs. Every design created with this page builder will automatically adjust to any screen size (and look good while doing it).
Clicking the responsive button in the settings panel will allow you to preview your design in a mobile, tablet, or desktop screen format.
To take it a step further, Elementor allows you to show/hide specific elements on certain devices. If there is a banner, large hero image, or any other element you might not want to be shown on mobile, then you can remove it with a simple click.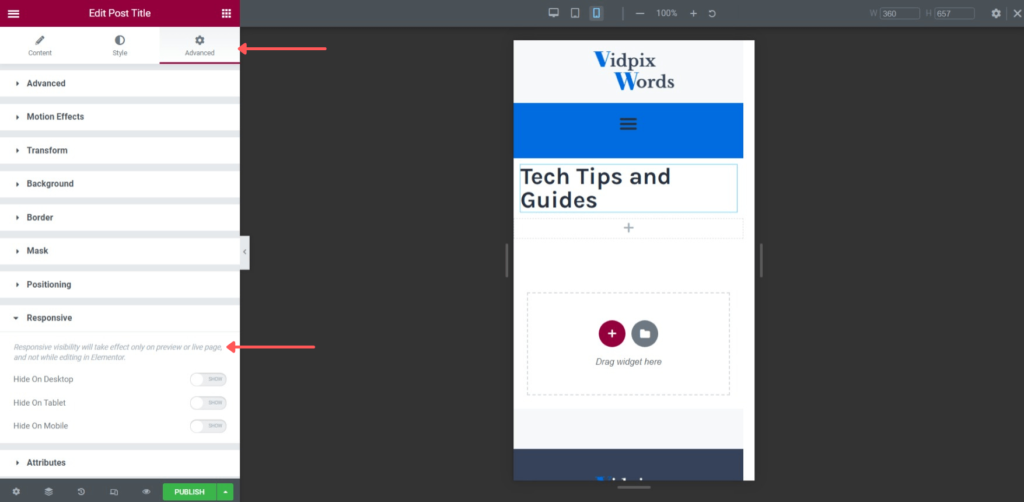 Popup Builder (Pro Version)
The popup builder is a relatively new feature, it came with Elementor 2.0 update. With it, you can create advanced targeted popups which required another plugin to do before the update. 
This feature is slightly different from the others in that you can't find it in the normal Elementor editor. To access it, you have to go back to the WordPress dashboard, go to templates, and select popups. 
Strangely, after selecting popups you will be taken back to the Elementor editor where you're able to choose a category of popup along with a template (many to choose from). The category of popups to choose from includes: 
Bottom bar 
Classic 
Fly in
Full Screen 
Hello Bar
Slide-in
If you're not interested in using a template then by exiting the library window you will be taken to the editor so you can create your own. 
Whether you choose to create your own popup or use a template, you'll be able to control the creation process as if you were creating a regular page/post. 
Theme Builder (Pro Version)
This is a very useful tool to have, it allows you to customize every aspect of your WordPress website. 
The Theme Builder tool is a drag and drop interface that allows us to create our own custom themes for: 
Headers 
Footers 
Single Pages
Single Posts 
Archives 
Results Pages 
Error Pages
Customizing your theme can be done by adding and combining different elements, tweaking the colors and layouts, or even adding custom CSS code
Similar to the popup builder, you can access it via the WordPress dashboard under templates. All you then have to do is select 'Add New', select the type of template you want to work on, and then choose a template or design your own footer.
You can also assess it by clicking the hamburger icon on the element library/sidebar and selecting 'Theme Builder'. 
Elementor Plans and Pricing
One of the great things about Elementor is that you can use 80% of all the features it has to offer completely free of cost. This is extremely beneficial to those who are just starting off and running low on funds. 
When we step into Elementor's pro arena there are multiple plans to choose from, each suiting your specific needs as a digital marketer or website manager. First up is the Essential Plan, for $49 per year you can install the page builder on a single website. With this plan, you will have access to Elementor's basic and pro features such as:
Drag and Drop Live Editor
Responsive Design (to make your site mobile-friendly)
90+ Basic and Pro Widgets
300+ Basic and Pro
60+ Pro website Kits 
Theme Builder 
Premium Support.
There is also a sweet deal that gives you Elementor pro on 3 websites for $99 a year. 
Other pro plans offered include the:
Expert plan (for 25 websites at $199/year)
Studio plan (for 100 websites at $499/year)
Agency plan (for 1000 websites at $999/year)
With the studio and agency plans, you have access to Elementor's VIP support and Experts Network Profile. The Experts network allows you to showcase your work to connect with others and secure future gigs.
Elementor Alternatives
If Elementor isn't the right fit for you, WordPress supports several other plugins for page building.
Visual Composer and Elementor shares a lot of similarities. It has a simple drag and drop interface and has a free light version along with full premium versions. The cost to get the premium version on a single website is the same as Elementor, but the other pro plans cover a lot more websites and are at a fraction of the cost of Elementor. 
This website builder has a long list of powerful features that allow you to design and edit site-wide elements like menu, headers, footers, and logos along with individual post and page customization.  
Some noteworthy features include: 
GIPHY Library 
Mobile Edit 
Drag and Drop (obviously)
Duplicate Element
Recent Colors and a lot more

If you are interested in having an unlimited amount of design options at your disposal then Divi can be a good fit. With over 100 pre-made layouts you can quite literally create any kind of website you want, and the simple WYSIWYG (what you see is what you get) editor makes the process hassle-free.
What makes Divi unique is that it comes as a theme (Divi All-In-One Theme) and page builder (Divi Builder Plugin). You can choose which best suits your needs.
Divi also stands out from Elementor in that it does not offer freemium plans. It only offers a yearly access plan of $67 (25% Off) and a lifetime access plan of $187 (25% Off). 
Some noteworthy features include: 
 Custom CSS Control
True Visual Editing 
Tons of Design Options 
Responsive Editing 
Our Verdict
Elementor is a great page builder to have, it is one of the best currently available and it's clear why. Its easy-to-use interface, affordability, wide variety of design elements/widgets, and designer-made templates make it the perfect tool for creating professional websites.
Based on our experience, it is highly recommended. Especially if you're just starting out with your website. It'll save you time and money all while ensuring that your site has the best design possible.
Get started with the free trial to determine if it's the right fit for you. 
If you're interested in learning more about other WordPress Plugins you can read our other review on Rankmath and Yoast SEO