What is Web Hosting? 11 Features of Great Web Host.
Web hosting is a service that allows your website to be available on the internet for easy access to all. The service is offered by businesses that provide specialized computers and a secure network to store all the files for your website.
In the early stages of creating my first website, I spent over 6 hours researching web hosting to find out everything I possibly could about it. Good times. During that research, it was pretty clear why web hosting was such an important part of operating a website. 
I realized that I would not have been able to read an article about hosting let alone create my own website without the web hosts. This article is my way of paying it forward and sharing my knowledge about web hosting so you can answer that question you asked yourself "What is Web Hosting?"
What is Web Hosting?
Table of Contents
Web hosting is a service that allows your website to be available on the internet for easy access to all. The service is offered by businesses that provide specialized computers and a secure network to store all the files for your website. These businesses act as the 'host' for your website and the computers that store the files are called servers.  
It is worth noting that websites can be hosted locally from your own computer, but it is almost always more beneficial to use a hosting service for their additional features. 
What is a Domain Name?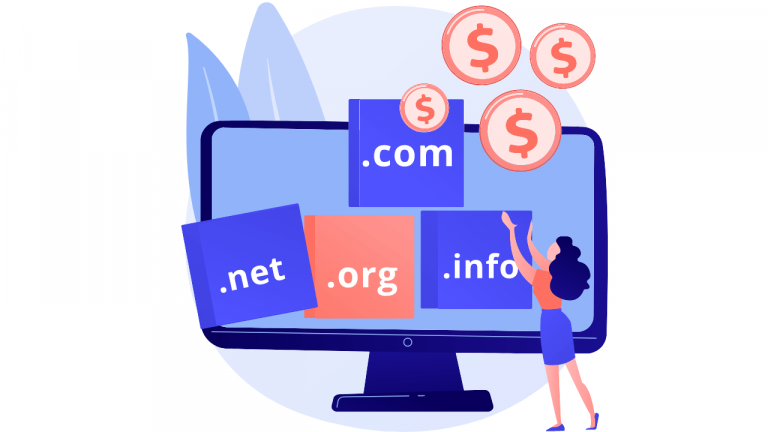 A domain name is a unique identifier for your website. It is an address that people can type into their browser to visit your site. They are a required part of setting up a website, you need to register a domain name before you can even host your website. 
Registering domains is most often done through third-party registrars or domain hosts. 
The internet is made up of a network of computers that are connected to each other and share information. Every computer connected to the internet has an Internet Protocol (IP) address. This address is unique to each computer and is made up of numbers, for instance, 35.209.3.0.
When your website is hosted on a server (computer) it will become associated with that server's IP address. As humans, it can be difficult to remember all the numbers of an IP address. So as an alternative to remembering IP addresses, domain names came about. We only have to type in the name (domain) of the website we want to visit and the computer will make the connection by converting the domain name into an IP address. 
How does Web Hosting work?
As mentioned earlier, the first thing you must do before getting your website hosted is to register a domain name. Many hosting services are also accompanied by a domain registry service but you can choose a separate domain host to register your domain name. 
After securing a domain name you can pick a favorable hosting plan from a web host of your choice, we mention some great web hosting providers later in the article so you can check those out.
The most common analogy used to describe web hosting is renting an office space, and it fits. Web hosts rent out their server space so your site can have constant and secure access to the internet. All the resources of the server such as the Random Access Memory (RAM), hard drive space, and bandwidth are allocated to the upkeep of your website. 
Web hosts are active landlords/ladies, their job does not stop at simply providing space on their server for your website. They have to routinely maintain their servers to ensure that there are no technical difficulties that would disrupt your site's connection to the web. 
Features of Web Hosting
Email Features – Most web hosting plans should come with a wide range of email features that can be used to enhance the reach of your business. Email features offered should include email address customization, mail forwarding, autoresponders, email filters to scan for spam and malicious software, unlimited storage, calendar and task, and much more. 
Storage Space – Depending on your hosting plan you will be allotted a certain amount of space on your web host's server. That space will be occupied by your HyperText Markup Language (HTML) and Cascading Style Sheets (CSS) code, any written, graphic, and media content, emails, web applications, and any other files that are on your website for one reason or another.
It is important that you choose a plan that has enough storage space to hold all the files for your website, this may have a major impact on your site speed. Choosing a web hosting service provider that easily facilitates storage space upgrades is a major plus, you never know when you might need it in the future.
Bandwidth – Bandwidth is the measure of how fast data can be transmitted over your internet connection in a given amount of time. The less bandwidth allocated, the slower your website takes to load regardless of how fast your connection speed is.
It is important to pay close attention to the amount of bandwidth that is available for each hosting plan. This can be especially important when using a shared hosting plan (we will explain this later on), having higher bandwidth can drain a server's resources affecting the performance of other sites on the shared server.
Secure Socket Layer (SSL) Certificate – If you operate an e-commerce site or have any financial transaction take place on your website then you will need an SSL to secure your customers. If you do not have one Google will mark your website as not secure, affecting your search ranking and payment gateways will not allow you to use their services on your website. You will have to direct users to another site to complete the transaction. 
Support – Every reliable hosting service provider should have a technical support team on standby to help you address any problems that may arise. Support can be in the form of live chat, telephone, or via email. I personally prefer chat support of the three, it is a lot faster so small problems can be resolved a lot faster. 
Migration Services – Hosting migration can be a technically difficult process if you do not have the right know-how, you might make a fatal mistake. Fortunately, most of the top hosting services offer a courtesy migrating service for when you are making that big switch.
Over the years it has become more of an expected service so if by chance you come across a web host that does not offer this service, run. 
Domain Name Hosting – It is not uncommon to find that many web hosts double as a domain name registry or domain host. This can make your website creation process much easier by securing a domain name and a web host at the same time.
It is important to ensure that if you want to change hosts, you can keep the domain and transfer it to another registry. You can check the Terms and Conditions to determine if it is possible and if a transfer will require any additional fees. 
Types of Web Hosting
There are multiple different types of web hosting services available, each is unique in its own way. Before making the decision to jump in and create your website, it is best to do some research on the best type of hosting for the vision you have for your website. 
Here are the types of Web Hosting:
Shared Hosting
Shared hosting is one of the most cost-effective and fastest ways to get your website up and running. With this type of hosting, multiple websites share a single server which can be great if you are on a tight budget or have a small site. It does come with some drawbacks though,  like slow loading times due to the server's resources being spread across multiple websites. In recent times this has been improved but it is still something to keep in mind. 
Virtual Private Server (VPS) Hosting
VPS hosting is the next step up from shared hosting, providing a higher level of performance and scalability. VPS tenants still have to share the same physical servers but now they have resources specifically allocated to them.
There are two types of VPS hosting: managed and unmanaged.  
For managed VPS hosting the web host will be responsible for maintaining the server. All you would need to do is upload your website files to the server and let the host take care of the rest. This may cost you a bit more than unmanaged hosting. 
All the power is in your hands when it comes to unmanaged VPS hosting. With this type of VPS hosting, you are solely responsible for configuring and maintaining the server. You will have to do everything from performing software installation and updates to running security checks. Naturally, this type of hosting is more suited for folks with more technical knowledge of how to operate a server. 
Dedicated Hosting
As the name suggests, dedicated hosting is when you have a dedicated server for your website. It is like renting out an entire office building instead of sharing it, and as you can imagine it costs a pretty penny. 
This type of hosting reduces the risk of security problems while enhancing the overall performance and flexibility of your site. Whatever technical assistance you might need will be catered to by the support team of your web hosting provider. 
In short, this type of hosting is a premium. This high-end web hosting is geared towards large enterprise-like websites that generate hundreds of thousands of traffic on a regular basis. 
Cloud Hosting
Cloud hosting is a more recent form of hosting that offers high performance and scalability. It allows your web files to be stored on multiple virtual servers across the web. The resources from multiple servers will be shared to maintain your website, preventing any possible connectivity issues. 
For other types of hosting you are given a set amount of server resources to use, a specific amount of RAM, storage space, and bandwidth. In the event of a traffic spike, these resources may be overwhelmed resulting in your site having a low/slow connection or crashing (worst case scenario). 
With cloud hosting, instead of the server resources becoming overwhelmed, the system would automatically redistribute additional resources from other servers to maintain your site during this period of high traffic.  
Pricing for this type of hosting can be confusing and difficult to estimate because providers may charge customers based on resource usage.
WordPress Hosting
WordPress hosting is a form of shared hosting and is a fast and reliable way to host your WordPress site. With the server preconfigured and optimized specifically for WordPress, it will be smooth sailing from thereon. 
This type of hosting will include pre-installed plugins (learn more about WordPress plugins here), WordPress themes, drag, and drop page builders, and other additional features. It is a low-cost high efficient hosting method, if you have a WordPress site then it is worth looking into. 
Examples of Popular Web Hosting Services
Cloudways Web Hosting
Cloudways is the new wave of hosting, it is a cloud-based hosting service that is both affordable and functional.  With Cloudways you can choose from some big-name cloud providers such as Amazon Web Service (AWS) and Google Cloud
Cloudways is stacked with great hosting plans to choose from, with its most basic plan offering 10 gigabytes (GB) of RAM, 25 GB of storage, 1 core processor, and 1 terabyte (TB) of bandwidth. 
All Cloudways plan is accompanied with:
Free Migration
24/7/365 expert support.
Free Secure Sockets Layer (SSL).
Content Delivery Network (CDN) add-on.
Auto Healing 
Auto Backup
Dedicated Firewalls
And many more. 
You can get a test run of Cloudways via its 3 days free trial to determine if it is a good fit. The great part about their free trial is that it is risk-free, you can use it without giving your credit card information. 
Hostgator Web Hosting
Hostgator is a great choice for a web hosting service, they offer a wide variety of tools that caters to different hosting needs. Hostgator's hosting plan covers a broad scope, plans offered by this service provide include: 
Shared Hosting – this is very affordable costing as low as $2.75/month. This plan includes 1 year of free domain hosting. Nice catch. 
Website Builder – costing as little as $3.84/month. With this plan, you can create your website with a simple drag, drop and publish.
WordPress Hosting – this plan starts at $5.95/month. You will be able to create a faster and more secure WordPress site with this plan. 
VPS Hosting – starting at $19.95/month you get full root access to a fully scalable hosting environment. 
Dedicated Hosting – with a starting price of $89.98/month your website will get the ultimate server performance. 
Some excellent features offered by Hostgator include free site transfers, unmetered bandwidth, one-click installations, and free SSL certificates.
Inmotion Web Hosting
InMotion Hosting has a diverse list of features that can meet your needs for any type of web hosting. Whether it is Shared, Cloud, VPS, Dedicated, or WordPress hosting options they have the perfect plan for just what you need.
The pricing for Inmotion Hosting's plans is relatively affordable with the most basic Shared hosting plan starting at $2.99/month, and the basic plan for Dedicated hosting starting at $139.99/month. Features that accompany all of Inmotion's hosting plans include:
24/7 US-based support.
Dedicated security.
Unlimited email
A great 90 days money-back guarantee. 
One feature that stands out the most about Inmotion Hosting is its top-tier customer service. You are sure to be satisfied with them whenever you have to reach out to their support team.
Bluehost
Bluehost offers a range of products and services to help you get started with your website. If it is shared hosting, WordPress hosting, domain name registration, or web building tools Bluehost has you covered.
They offer affordable hosting that comes backed by unmetered bandwidth, free global CDN and SSL certificates, along with routine data backups. Some of the basic plans Bluehost has to offer include: 
Shared Hosting plan – starting at $2.95/month.
Website Builder plan – also costing $2.95/month.
Dedicated Hosting Plan – standard plan for $79.99/month.
VPS Hosting Plan – standard plan for $19.99/month. 
You can register a .com domain for $12.99 for the first year. 
Bluehost also offers a plan to build e-commerce sites with WooCommerce optimized tools.
In Conclusion
That is all the basic information you need to make informed decisions when it comes to web hosting. Web hosting is that one definitive service that determines whether or not your website will be on the internet. It is literally impossible to have a live website without it being hosted in some form or another. 
Luckily for us, it is a service that is being offered a dime a dozen. You can choose from thousands of providers, picking the one perfect for you while saving a nickel, a dime and a dollar while you are at it.